I've been hit with a need to clean and organize my studio before
settling in for my winter work. Every time I do this task I am
amazed and overwhelmed with the amount of little stuff I have
accumulated that once had supreme importance and now sits waiting to
be needed again. What to do with this stuff?
See to understand what I mean: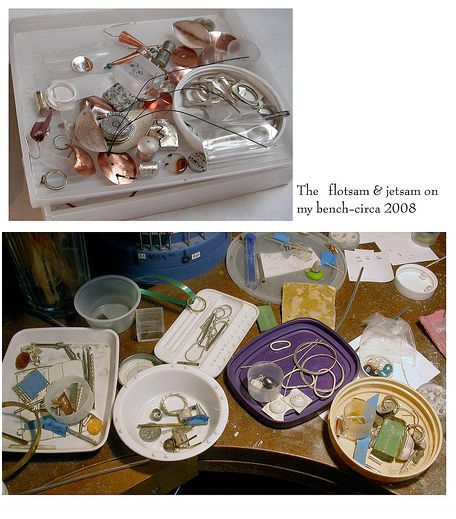 It is the start of projects left behind, a practice piece, an idea
that seemed good for a while & I may return to. Its 2 pair of
earrings and favorite stones I was going to make for myself, small
soldering or assembling jigs I no longer remember what they were
made for. A great idea that is still great, but I've moved on to
something else. Extra findings I made for a specific project & I
won't have to make again. Its good ideas, and new techniques, lovely
pieces that didn't fit the project I was working on, but may fit
another one. There are bits and pieces of inspiration, waiting to
inspire me when the time is right. ETC!
What to do with all this stuff!?? How do the rest of you deal with
these little pieces of good ideas, helpful snips, practice pieces?
How do you keep them organize and keep them from taking over your
bench and life?
Any good hints would be so appreciated for control of my piles of
little things.
Thanks.
Carla