Hello
Has anyone used the smith little torch using a disposable MAPP with an oxygen R tank and regulator?
Thanks!
I use 1 lb. disposable propane cylinders and an O2 generator. Runs my Little Torch and Meco just fine for what I do. The cylinders can be refilled if you want.
Hi Melody,
Yes, this is my exact setup. I recently put a new dial regulator and valve on the 1 Lb MAPP Pro tank so I could set the torch pressure exactly. With the 1 Lb. regulators, you have to kind of guess at what's right.
Anyway, is there something specific you'd like to know?
-Alec
Hi Alec
Do you have pictures of your set up?
What kind of dial regulator are you using for the disposable Mapp and where did you get it?
So for oxygen are you using the R Tanks?
Thanks!
Hi Melody,
Here's a shot of my tanks and regulators. You need an acetylene regulator, not a propane regulator for the MAPP tank. The propane regulator's pressure is too high. I bought mine at CyberWeld, Rio also carries it.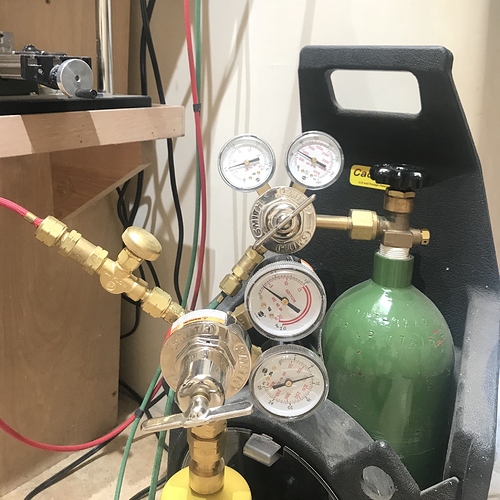 You also need a 1lb tank adapter, and a shutoff valve. The valve was tricky to find, and I finally found one on eBay. The same seller still has three. Search for: Western Enterprises 204 CGA 023 Valve Nut/Nip Xbody
Hope this helps.
Best,
Alec
Between the valve and the red hose B nut is that a check valve or a flashback arrestor? It looks like a Western check valve which is not adequate in the event of a flashback – it will not prevent flame from reaching the fuel tank. You really should have combination flashback arrestor/check valves on both the fuel and oxygen connections…they will have a red stripe for fuel and green stripe for oxygen on them.
Ed Howard
Sales/Marketing Manager
G-TEC Natural Gas Systems
201 Dutton Avenue
Buffalo, NY 14211
1-800-451-8294
ehoward@gas-tec.com
www.safe-t-gas.com
Thanks Alec
This has been very helpful!
I was going to ask about flashback arrestors also.
Melody
Hey Ed,
Thank you. I recall when setting up my torch as a novice, the decision process of what to buy seemed like a can of worms. I bought the Smith, 23-1010P, and those are the Smith check valves came with that kit. Interestingly, Smith does not recommend using arrestors with the Little Torch. I understand and appreciate your safety concerns, however.
For reference, look at the April 6, 2016 Q&A under the Ask & Answer tab here:
https://store.cyberweld.com/smlito23prca.html
I'm going to drop Smith/Miller an email and ask for a more detailed explanation.
Best,
Alec
Hi Alec,
The website at the link you posted says the following:
You can install flash arrestors on the Smith Little Torch Propane Caddy Jeweler's Torch Outfit 23-1010P however Smith does not whole heartedly recommend it. You will have to use regulator mounted flash arrestors with built in check valves.You will not need the check valves that come in the kit. The flash arrestors will restrict gas flow . This will require using higher gas pressures then normal for the little torch which may effect torch operation performance and torch life
Customer Service
on April 6, 2016
You can install flash arrestors on the Smith Little Torch Propane Caddy Jeweler's Torch Outfit 23-1010P however Smith does not whole heartedly recommend it. You will have to use regulator mounted flash arrestors with built in check valves.You will not need the check valves that come in the kit. The flash arrestors will restrict gas flow . This will require using higher gas pressures then normal for the little torch which may effect torch operation performance and torch life
Customer Service
on April 6, 2016
Here's the problem…a check valve is only designed to prevent a higher pressure gas from going into the hose of a lower pressure gas…in this case usually oxygen flowing into the fuel gas hose. The problem with a flashback is that in addition to pressure you also have a 5,000 degree F flame that travels at 17 feet per second flowing toward the gas cylinder. A check valve has a thin metal flapper to stop gas flow but it will melt with the flame off the flashback. A flashback arrestor has a scintered filter which disperses the flame and extinguishes it.
Most flashback arrestors "use" about 1 psi (which is why you can't put one on a standard utility natural gas pipe) so you'd bump gas pressure on the regulator by a psi to get the recommended pressure at the torch.
If you are using acetylene most likely you are using one of the smaller Little Torch tips, perhaps a # 2 or # 3 and these are easier to cause a flashback. It is easier to get a piece of metal in the tip opening to cause a reversal of gas flow…and if you get a spark in there too you have a flashback.
At G-TEC Natural Gas Systems we get calls from natural gas utilities where a jeweler has blown up their gas meter because they did not have flashback arrestors on their torches…they thought check valves would protect them.
It is a serious danger…you should put combination flashback arrestor check valves on your gas and oxygen lines.
Ed Howard
G-TEC Natural Gas Systems
ehoward@gas-tec.com
Office 1-800-451-8294
Cell 716-490-1766
Hi Ed,
I don't disagree at all with your opinion. I was simply curious about why Smith doesn't recommend arrestors for the Little Torch. I wrote them yesterday and have already heard back.
They told me it's a performance issue, that with the low pressures used by this torch, you might see movement or pulsing with smaller tips. They also said the American Welding Society recommends an arrestor somewhere in the system, and that Smith's current manual makes the same statement.
They further stated that flashbacks occur when the operator doesn't operate their equipment correctly follow the manufacturer's manual for purging the lines, checking for leaks, and running at the correct pressure. But even knowing this, everyone makes mistakes on occasion.
As for me, I've ordered a pair of arrestors for my setup.
Best,
Alec
Good for you!
Did you change the pressure setting on your regulators or make any other changes as a result of installing the flashback arrestors? Did you notice any change in the flame on the torch?
Ed Howard
Sales/Marketing Manager
G-TEC Natural Gas Systems
201 Dutton Avenue
Buffalo, NY 14211
Office 1-800-451-8294
Cell 716-490-1766
ehoward@gas-tec.com
Visit www.gas-tec.com for industrial applications
Visit www.safe-t-gas.com for jewelry manufacturing and glass lampworking applications
I have been using a Prest-O-Lite for years.
Do I need a flashback arrestor on this system?
MELODY ARMSTRONG
I wanted to see how it performed with no changes so I left the settings as they were. My current project is using the #6 tip, so not terribly small, but I haven't noticed any difference. No adjustments needed.
-A
My advice to save up and buy new or used oxygen regulator and new or used propane regulator and then buy or rent full size oxygen tank. You can then just buy a regular BBQ grill sized propane tank.
Honestly, if you cast metal you can then also buy a Versa Torch from Smith and then you have the Little torch for soldering small stuff and the Versa torch for when you melt or want to solder big stuff.
You are limiting yourself too much by just using really small portable tanks.
I posted earlier in this discussion, but my post was very brief. I get along fine with a reconditioned O2 generator purchased at a local medical supply store ($275) and 1 lb. propane cylinders running my Meco and Little Torch torches. I can do small 1 - 2 oz melts with no trouble at all. I use only one non-adjustable regulator ($60) and a very light weight hose from the Tin Man. Multiple regulators, heavy hoses, fittings, check valves, flashback arrestors are in a box in storage and the tanks are in a shed. My goal was get the high pressure cylinders out of my shop and still be able to use my torches. The jewelry that I make is fairly heavy. My torch system has no trouble keeping up with what I need to do this work. While I work just about every day, I only refill or replace the propane cylinders about once a month other than at Christmas time. This solution may not be for everyone, but it works for me. I would be happy to post pictures if asked…Rob
I have used a Prestolite plumbers torch for twenty five years. A gift from my Dad. And that is what he used and what I learned on. This past week my torch handle lost it's "O" rings and became very concerning to use. A trip to the welding supply allowed me to learn that my particular torch is difficult to replace locally, expensive enough that I may as well go a new direction with new equipment and I have shows to do. I took the time to look over Brother Rob's set up and with his assistance I am trying out the propane/oxygen system he has used, only with a Hoke torch. Some how I have three of them. There is a learning curve. The reason I am moving towards Rob's set up is it is compact. If I run out of gas on a Friday night I can run to Lowe's and buy a bottle of propane or take it off the gas grill. I don't have to wait until Monday morning. And at my age with the hand injuries I have a light weight torch handle is a nice thing. I will probably keep a Prestolite torch around for large melts and the occasional plumbing I need to do.
It is also nice to have tech support near by.
Don "The Other" Meixnerhttps
±- Robert Meixner orchid@ganoksin.com wrote:
This sounds like a really good solution for my home studio. There are two similar threads going about the 1lb propane/O2 concentrator setup so I'll ask in both places:
Best source for O2 concentrator? I see mixed reviews on Rio
Check valve/flashback arrestor not needed for safety? Non-adjustable regulator because the tank is so small?
How do you go about refilling the 1lb tank from your outside tank?
Do you keep your 1lb tank inside and hooked up? Or take apart after each use? and put the tank outside?
Photos of your setup would be great!
Thanks very much.
Melissa
Well here is a story.
I have purchased a Smith Little Torch and a set of Paige Tips. The torch came from Rio Grande and the Paige Tips came directly from Paige. My thinking is Torches are Torches. Nothing more than a handle with hoses and valves. And it is the tips that get the work done. I wrote the following email to Richard at Paige tips asking advice.
I am a silversmith working for the last 25 years with a Prestolite acetylene 
plumber's torch.  I learned from my Dad and that's what he used.  I have used the  
# 1 tip for jump rings, #2 and #3 tips for general soldering and the big tip for 
melts and casting.  I am fine with the acetylene torch but I am looking to 
change to Propane, mainly because it is easy to get anywhere and I am taking the 
show on the road so to speak.  I am looking at a Smith Little Torch but advice 
from my brother tells me to look at your tips rather than the Smith tips.  
Brother Rob uses both a Meco and a Smith with an Oxygen generator and propane. 
Our work is very similar so our requirements are similar. 
 
Most of my work is building bracelets and ear rings.  The bracelets are using 
mainly 12, 10, and 8 gauge sterling, sheet work usually between 22 and 18 gauge.  
And I do a lot of annealing between steps in my process.  What would you suggest 
if I were to switch to either a Smith or a Meco torch for tips that will match 
my needs? 

Richard was very friendly and free with his advice in his reply. I called a spent half an hour on the phone getting a torch tutorial with no wasted time or information. And with his suggestion I went with the propane Little Torch and a set of five of the Paige Tips with a small rosebud for melts. The Little Torch comes with a set of five tips. I bought the Paige M- 5 set and paid nearly as much for the tips as I did the torch.
After years of using The Prestolite Club the Little Torch will take some getting used to. It is very light weight. It is also made well, but inexpensively. Not say it is cheap but a bare bones handle. My one complaint there is the handle unscrews easily and irritatingly. Some black tape will cure that.
The tips supplied with the torch do OK in the large bores where I tend to work but the smaller tips blow out easily. After a little work I was able to solder jump rings with the smaller tips but I would also melt a few in the process. The Paige Tips are a world apart. They do the work I need done just like the Smith tips did but the multi-port feature of the tips made them more direct and concentrated with the heat. And from the smallest to largest they didn't blow out. How much of this is a result of the oxygen I am using now I don't know. I also don't know what the differences will be with developing fire scale and polishing and finishing. If the Smith tips are a Chevy Nova the Paige tips are a Porsche Speedster.
The rosebud is as yet untested.
To use the Paige Tips a Paige Tip adapter is required on the Little Torch. That adds a few inches to the length of the handle which is actually a better thing for me due to the nature of my hand injuries.
I used the Little Torch for awhile yesterday morning and was pleased but not overwhelmed with the set up. I also was irritated by a draft which I had never felt before. After searching I found a hole in the die of the oxygen line which blew on me constantly and lowered the line pressure on the O2 side. I called Rio Grande and told them of the problem with the defective hose.
Rio Grande gets high marks for customer service. They had a RA certificate in my email and a NEW torch in my hands with in 24 hours. And as the new torch was dropped into my hands the defective torch was in The UPS Guys hands.
Now here is where the story gets fun. I worked on a bracelet this evening and all was well until I started to feel a draft. I picked up the hose and there was hole in the O2 line and also one in the Propane side. And there were tiny spider web type streamers going from the hose to the Paige Tip adapter. Every time I finished an operation I'd shut down the torch, hang it where I had always hung the Presto Torch, and thought nothing of it. While my back was turned the Paige Tip Adapter was busy melting my gas lines.
The only thing left to do was to swallow my pride and call up Rios Customer Service, talk to Jennifer, and eat some crow. That was bad enough but I mentioned on Orchid a week ago that in years of working on the building floor of a commercial boatyard I had never seen a gas line holed by the occasional hot bit of metal. And that I suspected that was as rare in the jewelry shop too.
At my insistence Rio is sending me back the first Little Torch and now I will have two.
So now I have to repair a few gas lines: advice on that is appreciated, go back to using the Presto to finish a few orders, and retrain myself to do something different with the way I handle my hot torch.
And I don't often blunder on this big a scale but when I do I drink, not eat, Dos Cuervos. Make jewelry and have fun my friends.
Don (Not Rob) Meixner