I recently sold a ring to a new client in Canada. All went well, all
was happy, until I got the following email today.
Just a quick update on the ring. My partner loved it first of
all. We sized it down here in Vancouver so now it fits snugly.
That is the good news. The bad news is that the people she
took it to damaged it (the diamond part is pushed down and
there is some 'scuff' marks on the gold surrounding it). My
partner never asked them to do anything except size it down but
these jewelers took it upon themselves to shine the ring and in
the process damaged it.
Anyways I am wondering if it would be worthwhile if you had a
look at it to see if it can be repaired or if you even do that
kind of thing. We would pay for all repairs and shipping of
course. Please let me know.
The rest of the story:
To see the ring in question go to: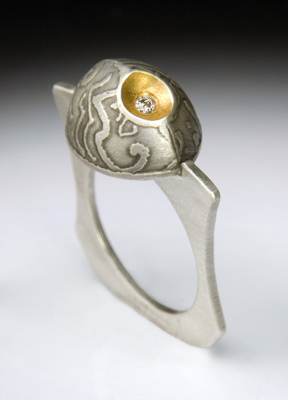 or, go to: carlamfox.com>gallery>rings>scroll to bottom, it is the
middle ring in the 3 Diamond ring image.
The ring is etched 22g sterling silver, w/ 22k gold bi-metal-the bi-
metal was textured. The shank is sterling also.
I engineer these rings tough. There is a heavy walled sterling tube
under the diamond that I set the stone in. I set that stone to stay
& did a damn fine job of flush setting it, without damaging the
texture on the bi-metal.
I did tell the client these rings are almost impossible to size down
because of how they are constructed, and sent it to him in a smaller
size then he requested, hoping it would fit, and/or it would need to
be size up.
The etched calyx pod is hollow.
I am at a loss as to what would have damaged the bi-metal, and
pushed down the diamond.
I am having him send it to me, so I can see what the damage is.
My first thought is that the whole ring will have to be remade. I
can't unset that diamond and reset it back in the original way if
the setting is damaged. I can't buff out the "scuffs" on the bi-metal
as it is textured and buffing could remove the gold.
I have no more of the etched metal. I would have to re-etch some. (I
have been avoiding this as when I etch it takes a better part of a
week to purchase several sheets of 22g sterling, prepare the metal,
get the chemicals, set up my etching system, and then etch. Time and
money is in short supply right now.)
My question is, who's responsible to pay for this mess? How to
proceed? I've never had a ring damaged like this, because some ham-
handed jewelry store didn't know what they were doing.
Any thoughts or suggestions would be welcomed.
Carla in a muddle
www.carlamfox.com