I've been wanting to post this Topic for a while now, almost from the moment that I joined Ganoksin, but decided to wait a while and become more acquainted with the Forum, it's Members and Interests. I have in the mean time, looked through the Archive and while there are a few Topics in a somewhat similar vein, most of them are more concerned with Patinas or Removing Rust from objects and tools and my question is pointedly about Preserving actual age-related Rusted Objects.
So, do any of you have any suggestions or recommendations for Preserving the Rust or even a Very Heavy Age-Related Patina on a Found Object when used with Precious Metals in Jewellery work?
I know that using Found Objects in Jewellery isn't to everyone's liking and some consider it beneath a Jeweller's skills and that they should be left to Mixed-Media Artists. I believe that I understand this thinking, as Found Objects aren't the Traditional Jeweller's Medium, though to be honest, I don't really understand it, as Found Objects have been used in Jewellery work for many thousands of years and are still be used today throughout the world. When some of you use a pebble, a shell or even a porcupine's quill that you've picked-up on a trip, that's a Found Object, sure it's not a piece of Rusted Metal, but it is still not a Traditional Jeweller's Medium either. I believe that using an interesting Found Object, whether it be of Natural or Man-Made Material, such as an old Rusted piece of Steel, can be combined with Precious Metals and transform into a truly beautiful work of Art Jewellery. Take for instance this Brooch made by Thierry Vendome: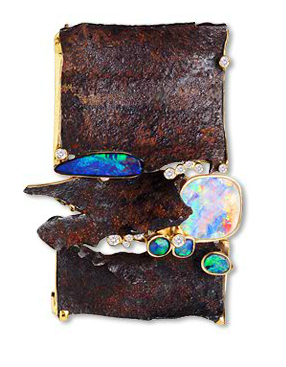 Anyway, back to my Topic, I am aware of and have Renaissance Wax and it is wonderful and effective, but it also wears off over time and needs to be reapplied. Does anyone know of any longer lasting or even permanent Treatments or Methods of Preserving Rust or Old Patinas?
I am also curious to see if anyone has suggestions on how to Remove the small particles of Loose Rust that are always found on Rusted Objects, while Preserving the underlying Colour or Patina of the Rusted Metal? So, Wire Brushes are out, as they almost always leave tiny and not so tiny scratches… I know of an Artist who Tumbles some of his Rusted Objects to do this, with I'm assuming Ceramic, Corn Cob or some other Non-Metal Abrasive Media, though I don't know with what. Any thoughts, suggestions or ideas?
Thank You for taking the time to read this and for any thoughts, ideas or suggestions that you might share, I really do appreciate it!