Love the new forum format. It's the same one used by Trimble (Sketch Up Pro), and Google.
I believe these argentium castings are coming out rough because either I'm mixing too much water or not mixing well enough… or I'm holding my high temp. too long on my small flasks. I was wondering if anyone experienced may be able to tell by seeing the crusty/porous look on most of the surface? I'm using Satin Cast for now but was told that UltraVest Max is good for castable resin and will not degrade as fast at high temps.
My flask is only 2.5 inches in diameter by 4 inches high. And a friend says he thinks my investment is degrading from how I described it. I took some pictures tonight. I'm using castable resin from FormLabs and the flask is bone white before I spin cast. I do not think the burnout is incomplete due to the bone white top and bottom of the flask.
There are parts of the castings that have the perfect model surface recreated, but much of the model surface is really rough as you can see from this one.
I am concerned that since I don't use a graduated cylinder, I am not mixing the exact amount of water required and think I'm adding a little too much water in my mix. Other then that, what else in my routine looks like it could be a problem?
I mix for a minute in a bowl with a whisk. I vacuum for 1 minute. I pour into my flask with models. I vacuum for 3 to 5 minutes. I let it sit for 1.5 hours. (My flask is only 2.5 inches in diameter by 4 inches so I don't think it needs 2 hours). Then I follow the castable resin instructions for ramping and temps… which includes holding at the maximum for 1 hour. (I held for 2 hours the first time, but held only for 1 hour the second time and still got the same exact kind of rough castings). I'll spare you the details but both castings each took from 5 to 8 hours of ramp and hold times. I highly doubt my flasks needed more burnout time so I'm screwing something else up I think.
Could it be a combination of too much water in my investment and I should hold my max temp. for less time because my flask is kind of small?
It's hard to tell from this picture, but in the front, the casting has the correct surface in a small place, but the rest of the casting shows a poor surface. Most of my models all had this typical mixture of really rough poor surface and a few nice surfaces that were identical to the models.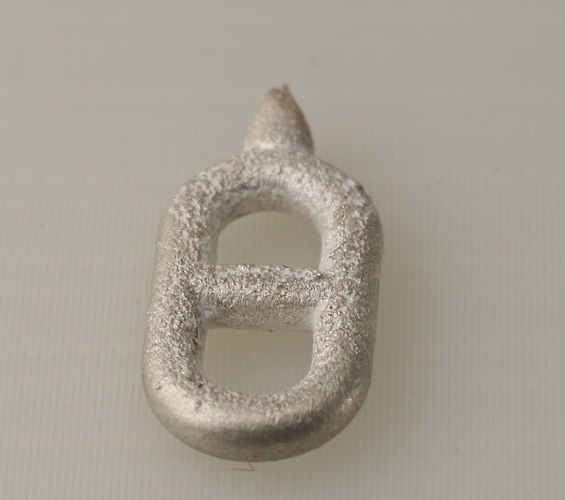 Thanks for any ideas.
Rick