I have a question about a diamond setting and was wondering if you
could help. I am trying to determine how the stone was set in the
attached picture.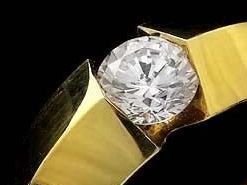 I was imagining that the ring was cast, then cut apart as if being
cut for sizing. Once cut, the bottom of the ring was squeezed until
the mouth of the setting opened up. When the diamond was set, the
ring was expanded back to its original position, effectively
clamping the diamond. Then the cut was repaired. But I am not a
jeweler so I need some advice!
Any you could offer would be greatly appreciated!
Thank you;
John