Hi everyone,
I looked at several of the old threads on the issue, and I think that my gold is just contaminated… but I wanted to ask your advice in case it's salvageable.
I normally work in silver and have next to no experience in gold, so I might just be making some obvious/simple mistakes.
Process:
I melted down about 45g of clients old gold chains of varying quality (10-18k, clasps removed)(I assume this was my mistake). Added a pinch of borax and scraped off the slag, then poured it into a warmed/oiled steel ingot mold (10mm round diameter cross section).
Waited a moment and opened the mold and quenched the ingot in water. It looked lovely.
Hammered it with a ball peen hammer down to about 9.6mm.
Annealed to bright orange (with an alcohol & boric acid coating).
Waited till glow had barely gone out of it, then quenched in water.
Ran through flat section of mill taking it down to about 8mm thick. Massive cracks formed.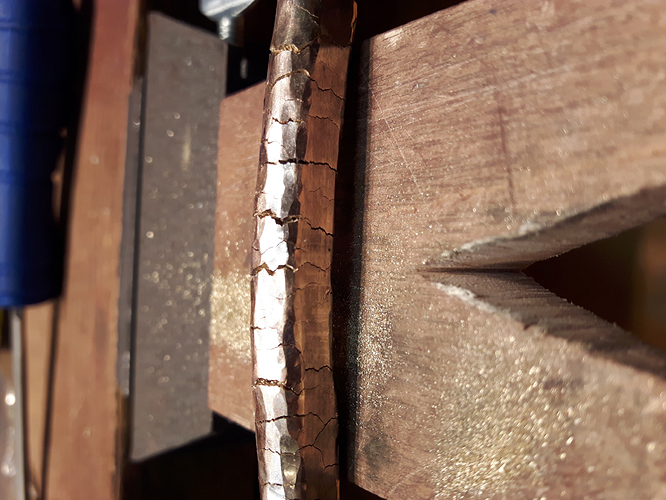 This was my second attempt, previous attempt was with no hammer forging and smaller slower passes through the mill, still cracked like crazy.
Any suggestions? Or should I just tell the client that, like I'd warned might happen, the gold is too contaminated to use as-is.