We have been happy with our Orion 200i2 welder but we were excited
to see that there is now an entry level welder available for the
craft jeweler without costing a bloody fortune! I just had to share
this news. The new Orion mPulse 30 ($1,999 USD) is the newest in the
family of Orion welders, made in the USA. It comes with at top end
power of 30ws, and an auto darkening lens to protect your eyes and
hold the argon stylus. This small and friendly welder can be used by
almost anyone, and has the power to do many jobs in a tight little
package. For those that are justtrying to do some quick and small
welds, it is just what is needed. At such a great price point,
almost anyone and any company can own one today. The mPulse has
power settings that range from 5.0ws to 30ws, in 2.5ws increments.
This gives you 11 different power settingsto choose from. The spot
size on the smallest setting is in the range of 0.8mm, depending
upon your material. The spot size on the largest setting of 30ws
will be about 1.5mm in diameter, depending upon the material you are
working on. The mPulse has the ability to work with Gold, Silver and
many of the other jewelry metals that you already work with. The
power supply measures at about 4" x 4" x 3", and takes up almost no
space on your bench.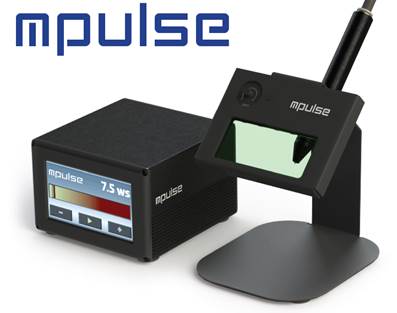 Our school, the Mountain Metalsmiths School of Jewelry & Lapidary,
located just south of Asheville, NC will be offering THREE WELDING
WORKSHOPS in 2016. We will be able to give jewelers the opportunity
to play with this "baby" as well as with the "big welders" for two
days of uninterrupted welding, with no waiting in line for a few
minutes of welding time. Interested in learning more? Feel free to
contact offline.