Hi,
which torch/ tips/ fuel system(s) would be best for melting and pouring ingots…?
julie
p.s, this looks like a simple, brilliant setup for supporting the crucible while pouring an ingot…!
…just yesterday i was just thinking about ways to improve my pouring, and contemplating ways that i have seen to support/ steady the crucible…i was recalling a fabricated metal pouring stand i saw for sand casting…i love a good jig…!
the small diameter rod 2 part combination molds challenge me the most…the opening is so small!…
and wondering if 2 part rod molds were available with a larger funnel spout…like the 2 part square sand casting frames…which i may want to consider after reading Rob's paper on casting and rolling ingots ver2.0
then, this popped up on instagram!
so simple!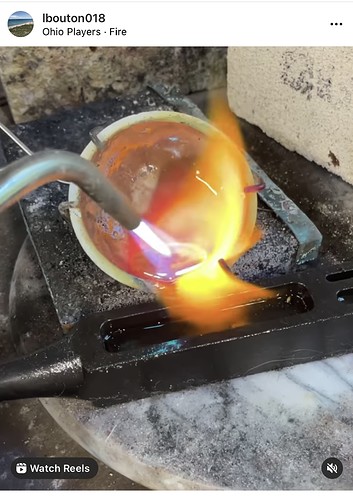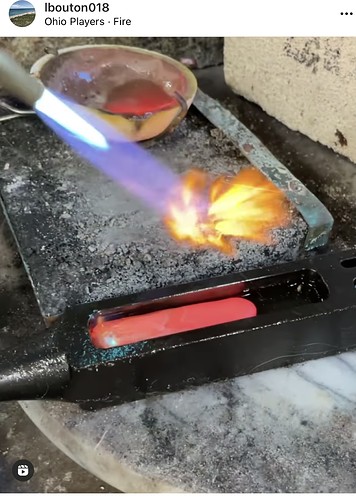 The answer is not posted regarding what torch or fuel system. This looks like a smith torch with acetylene. I have used this set up for years. But I am curious to what the best torch and set up is and will not not break my bank.
Looks like an old presto-lite torch tip. A few weeks ago I was looking at a you tube video of a guy casting silver in an open mold. He added a fair amount of oil to the mold before pouring. He then proceeded to pour a very nice ingot. I have tried wiping more oil than I usually wipe and it seems to improve the pouring process for me too. I m not really sure why, but then that is the case for a lot of things that I do. Most of the time I use my delft clay or petrobond process because I need an ingot that is a particular shape and it works well for that purpose. I will likely pour more open mold ingots in the future. I haven't tried more oil on a closed steel rod mold, but will sometime. If anyone has an idea what the oil is doing, let me know. Thanks…Rob
Producing a reducing atmosphere? I know that this is part of what gave us our glaze effects when working in raku pottery.
We use natural gas and oxygen in our studio.
When I melt platinum I use a sharp very hot flame.
In casting or annealing silver I use a large rosebud tip on my casting torch. It produces a large bushy flame that I dial in to be. a reducing flame. Less oxygen, less oxidation.
When melting gold, I make sure that I'm not getting in too hot and too fast to the point of burning out the alloys. If you see sparks coming off of your metal you've gotten it too hot.