I promised everyone a show report, so here it is. I hope there is
some in here you might find useful.
I don't do many shows at all and this is my first time showing my
metalsmithing work, as I have only been doing it in my spare time
now for about a year.
I agreed to do the show because I got a small discount on the booth
space and I work for the company who sponsored the show. It was very
last-minute and I had two weeks to prepare. I know I have a lot of
work to do on my booth setup, but it looks better than is has at
previous shows.
I've done this show in the past, and have made enough to cover costs
and then some. It's a little bit of a gamble and I knew that going
in. This year was the pits… the show was great, but the crowds were
lackluster. Nobody was buying anything and as my booth helpers
noted, they weren't really looking at the prices, either. The event
is a women's expo and a 1-day show. This year's keynote speaker was
Paige Davis, formerly of 'Trading Spaces'. I only sold enough to
cover half my booth cost. We are in an area where the economy is
doing fairly well with lots of new construction, so it's anyone's
guess as to why people weren't in a spending mood.
For my metalsmithing, I work with only silver, fabricating and am
exploring texturing techniques, hammering and punching, mainly. I'm
fascinated with the look that incorporates different surfaces &
looks next to each other, like a ring having a highly textured
surface and antiquing outside and a matte-sanded finish inside with a
highly-polished rim. Hopefully it looks better than the technical
explanation of it
Most of my work incorporates cabochon stones and I'm currently doing
a line of hand-hammered link jewelry.
Even though the show wasn't a success, I learned a lot about myself
and even had a couple of ah-ha! moments.
A couple of things that I'd like to share are:
Hard plastic grids for needlepoint sewing (with the large needle &
thread) make excellent media screeners for stainless steel shot. I
use the round one which fits inside a colander and over a bucket to
screen out even the smallest pieces, which just fell through the
colander holes. They are cheap, too!

Permanent ink, like from a Sharpie pen, makes a great resist for
Jaxx Blackner (and should work with liver of sulphur, too). The
citrus cleaners that remove ink, have no effect on the blackner, so
you can draw a pattern in ink, dip the piece in blacker, remove the
ink and have an crisp outline. In order to keep the black, you'll
have to pattern the metal somehow… so I plan to explore this
technique further by crimping the metal (as soon as I buy a tube
wringer) or punching/hammering and see what happens. I'll post
pictures with my results later. I found this out partly by accident,
partly by laziness. Please feel free to use and share this technique.

Shelving units make awesome displays. I took three wire shelves –
like the kind used for closets – and plastic tie binds and made a
three-sided display that breaks down nearly flat for storage &
transportation. (See photo below). They fit together great by the
outside (shelf lip) holding the backside of the other shelf. I used
a tie bind in three places per side and they are very strong &
sturdy. To break them down, simply cut one side of tie binds and the
unit folds up almost flat (cool, huh?).
And lastly, the best thing to come out of the show, was that a friend
of a friend who were both helping me with my booth runs the gift
store for the Columbia (SC) Museum of Art. She took some of my
pieces on consignment after the show. Woo-hoo!! I'm officially an
official artist. (grin) It's the first gallery I've been shown in and
was one of my goals this year. Wish me luck!
We didn't manage to get a web site up and running, but thank you to
all the people who helped me with backgrounds. That's the next major
project.
And also thanks to everyone who suggested places to find tumbler O
rings and just the support in general! What would I do without you
guys?!?
Here's some pictures from the show: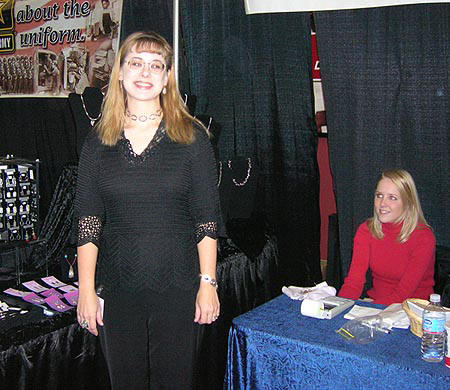 Me, on the left, after about 30 minutes of sleep in a 48-hour
period.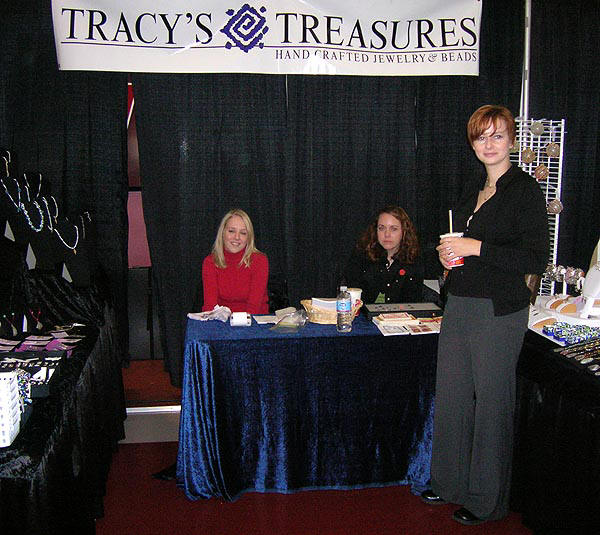 My loyal booth helpers before the doors open.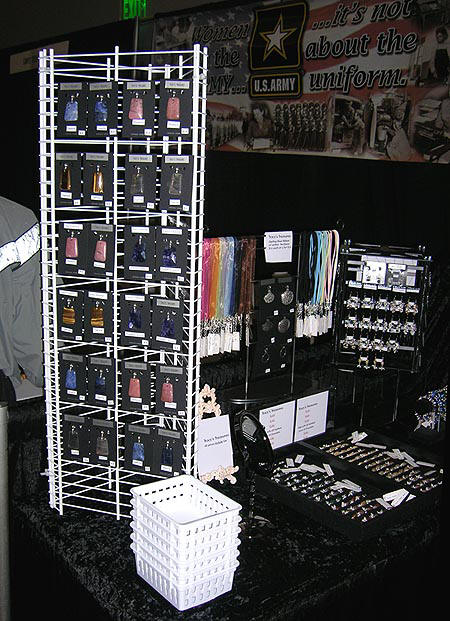 Shelving units used for display.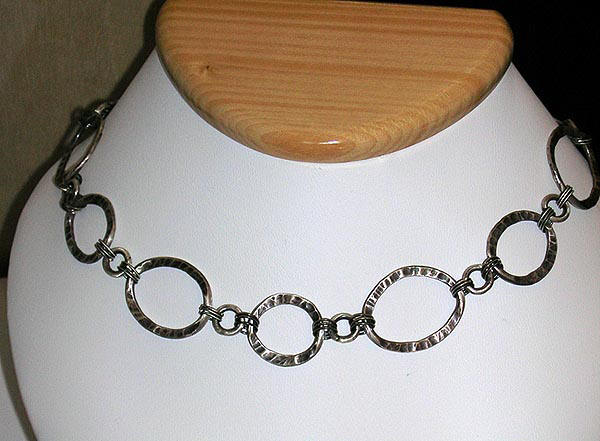 hammered links necklace.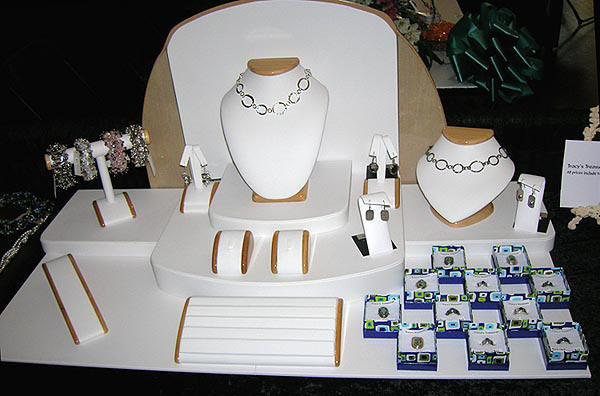 overall (still setting up)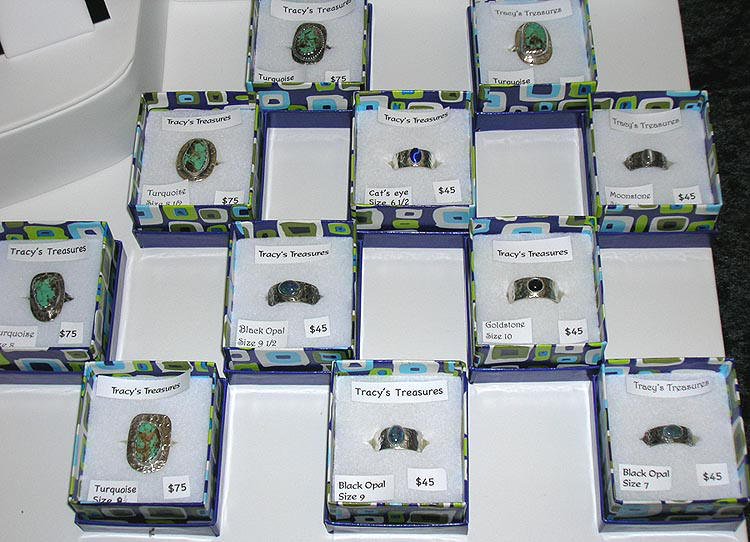 detail of boxed rings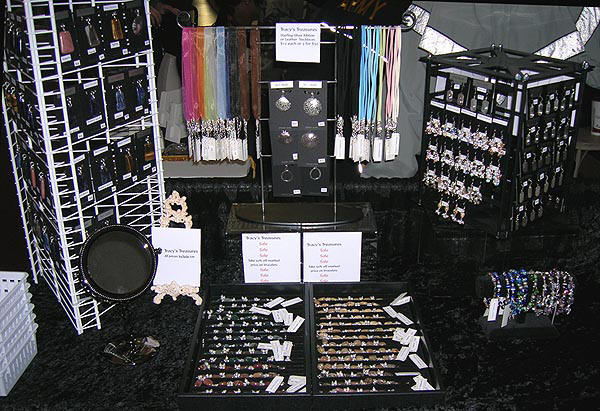 detail necklaces/pendants
All my best,
Tracy
Tracy's Treasures