I hope someone can help me. I had found a resource for this a while
a go, but can't seem to find it now.
I'd like to embed swarovski flat back crystals onto sterling, not
just glue on top. They are 2.6 mm crystals and I have a dremel. What
should I be using to make a little recessed hole to glue into? There
round burs, should I use those? I have one and it makes it kind of
curved hole, not flat. I'm not sure if that makes sense.
This is a link that shows what I'd like to do, but with my own
sterling.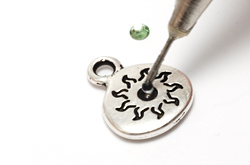 Thank you!