Where is a good place to list all of these items for sale?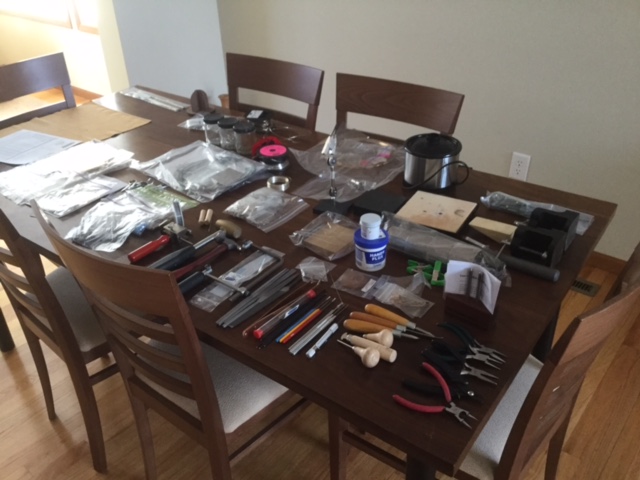 There is a facebook page called The Artist Garage Group and it exists
to sell unwanted supplies and tools. It has about 12,000 members. You
have to be a member to post and it is a closed group so you need to
have someone submit your name and email to join.
An easier choice might be ebay or your local metalsmithing
organization.
Judy Hoch
I am new to this site. Have you sold your old tools yet?
So that people know - it is both permissible and welcomed if you have tools or materials for sale on a one-off (per to peer) basis to list them here for sale. Kindly create one thread and list everything you wish to sell.
Hi Nancy,
Not sure if your note came through Orchid or personal, however no, some unexpected things occurred last fall and I had to put off my GOB sale for a year. If all goes well I hope to be out and selling the equipment by this time next year. Send me your personal email address and I will add it to my list of people wishing to be notified at that time.
Jon Michael Fuja


Stuller has list of show tools and used tools if interested. To get a copy you can email me off line. Andy_kroungold@stuller.com
Andy "The Tool Guy" Kroungold
Director Tool Sales & Stuller Bench
Stuller Inc.
P 1-800-877-7777 ext 4191 or 4194
Thanks for getting back to me. I am a high school teacher who teaches Jewelry and Metals and am always looking for more tools for the school. I would love to be added to your list. My email is n_eisenberg@chuh.org
Thanks again
Does anyone have a formula for estimating the carat weight of a mounted triangle diamond?
Jon Michael Fuja
Length x width x depth x .0057 this should get you in the ball park
Andy "The Tool Guy" Kroungold
Director Tool Sales & Stuller Bench
Stuller Inc.
P 1-800-877-7777 ext 4191 or 4194
There is a fb page called the joyful entrepreneur You might list some there