Hi all,
I wanted to share an experience with you. It happened when I tried
to close this ring shank: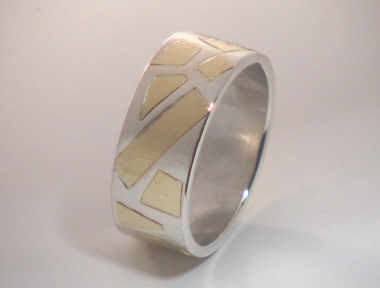 Materials are 925 Sterling and 750 (18k) yellow gold. The 18k pieces
are hard-soldered onto the Sterling and rolled down afterwards. When
I tried to close the shank it happened that the seam opened up by
2mm. It seems that both materials have great differences in thermal
expansion. In cold state the seam was perfect, only when I heated it
up it opened. I tried again soldering after I had hammered the ends
so that they pressed very tight against each other - no way, it
opened up again. Finally I had to press the seam together to get it
soldered.
Maybe this helps others who like to work with mixed metals.
Matthias
Berlin/Germany