As a Diamond Setter for only six decades, some of my jewellery friends call upon me to help them.
This is what happened this afternoon, I thought, what a good opportunity in helping my Orchid friends, wherever they live.
The question was "Gerry, how can I remove diamonds that are all Channel Set?"
By the way, if anyone have any questions similar to this, don't hesitate for a moment, I'll be happy to help you.
Now let's get started with the tools that are needed. Basically there is only one tool that's required!
I use a "Separating Disc" with a thickness of .025 mm's and a diameter of 7/8 inch. You can also use 3/4 inch, (whatever you have at your bench).
I like to keep my 'tool selection' to a minimum. The 'width of the disc' is so very important, why is this?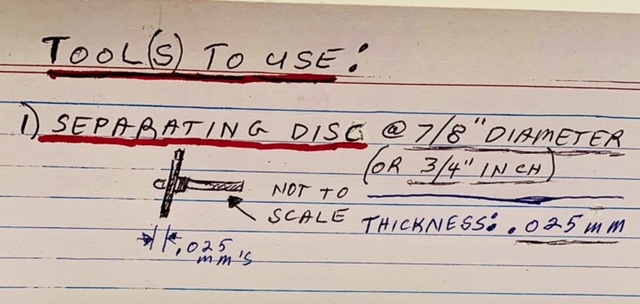 I want as 'much of the metal' to be removed without wasting my time.
The 'width of the cut' needs to be wide as possible, therefore the removal of the stones is done easily.
Now comes the actual digging of the rotating wheel into the metal. Do not speed up your motor, but be darned careful with your rotating disc. If you are attempting to remove genuine soft stones, "speed kills your stones! I've even used this method on "Genuine Emeralds"!
Place your slowly rotating wheel at one end of the channel setting. Starting at one end and draw your rotating wheel to the far end. Repeat this process slowly and each time you can dig deeper!
You are doing this as a guide for the next few "cuttings"!
Each time, you will dig a bit deeper.
Please be very careful on your genuine, SOFT stones.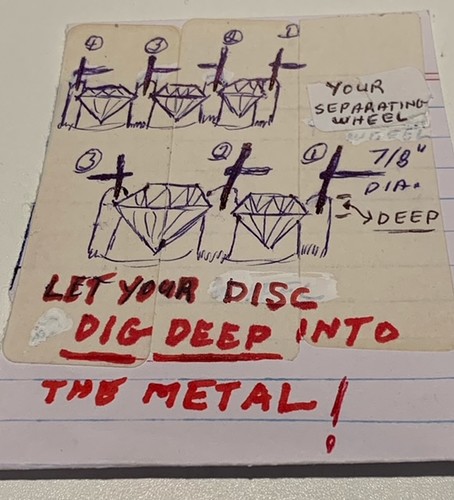 The diagrams that I drew are only as a guide. I'd like you to use your 10 power loupe at every possible
opportunity. You are learning, don't guess.
Now that you've completed the "deep cutting", use your disc to cut away your remaining channel metal.
What I do now is to very GENTLY remove the metal that is holding the stones in the setting.
Please be very careful that your disc doesn't touch your stones!
Keep cutting away your remaining metal until the stones are beginning to get loose.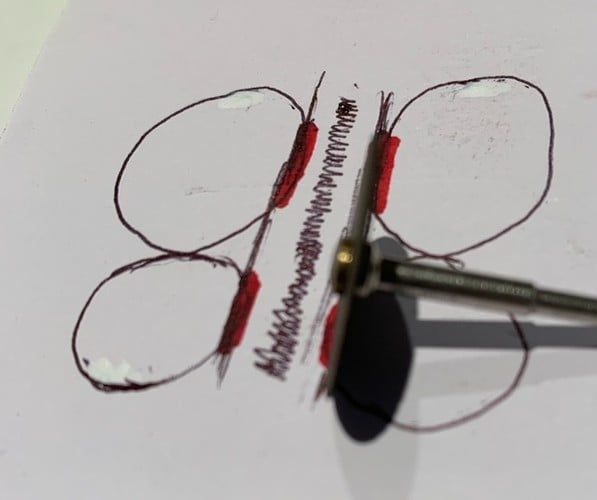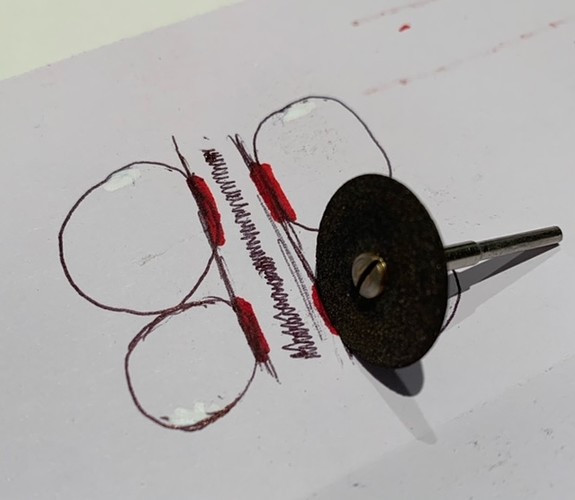 These drawings are not 100% professional, but at least you are getting the idea. Please keep gnawing at the remaining metal until the stones actually start to loosen. Your cutting at the overlapping metal is exactly what you need to do. That is to loosen the stone enabling it to easily be removed…safely.
As a Diamond Setter, removing of stones must be done with absolute care. I suggest examining each procedure as your diamonds or stones are very delicate.
Don't let your rotating separating disc touch any genuine stone. This is the most fragile procedure of removing stones, even I prefer not to be disturbed.
I hope you learned much from this essay. All I can say in three words is
"Please be careful"
"Gerry, on my iPhone"