I attended a Louisiana Vocational Technical Jewelry School from
1977- 1981. It went out of existence in the early 1990's along with
its watchmaking school. I worked briefly in commercial manufacturing
in Dallas, TX, but returned to being a Registered Nurse which was
more reliable at the time. I have continued to work in wax and metal
since then, though it is a struggle as I get older to balance all
activities.
I have had sales in local art galleries, and 2 shows. The 12 rayed
sea urchin shape was in a 1993 show at the New Orleans Museum of Art
for Louisiana Craftsman. I like to play with negative and positive
space, and to let the eye fool the brain into seeing "perfection"
when multiple almost exact images are place side by side. In the
beginning I did all the rays one at a time, but now usually make
components as these pieces were done. They were cast in single
pieces. The larger is 2 inches in diameter and less than 1/2 inch in
height.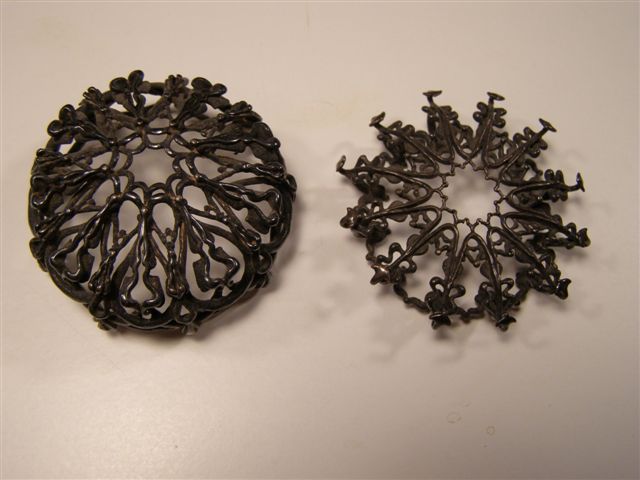 At room temperature common injection wax is a solid. When heated it
becomes a liquid, and it will ball up when picked up on a alcohol
flame needle because of surface tension. As it cools it can be
manipulated. It can be dropped on other surfaces as a sphere, or
pulled out into a line. One can build an armature of wax wire or use
a piece of thin sheet wax as a base to work a design in relief.
Insect antennae and legs, shellfish legs and feelers are possible
more easily by this means. The only other alternative would be to
file and carve metal wire, but then to combine it in all its delicacy
could be a meltdown. Certain techniques, just as material, have
inherent limits and possibilities. For example one does not expect to
cast pieces that require spring tension, they must be hardened and
fabricated.