I have been a goldsmith for over 40 years. Some of the tools that I use today I have owned for 40 years. That old original third hand, spring tweezer on a base has served me well but it is - just not enough.
A number of years ago I started to use something different and recently I upgraded what I was using to make it even more useful. This is a picture of what I made and I want to share it with you so that you can make one too!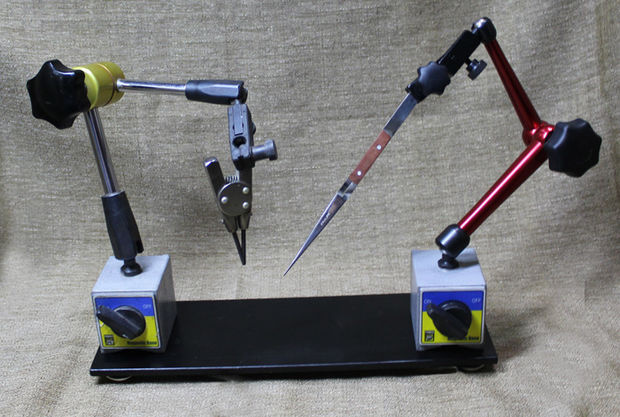 I am using articulating arms that are used in machine shops to hold measuring devices.
The larger knob on these arms when loosened causes the arm to become flexible and they can be adjusted to any position. Then when the knob is tightened the arms are held in place.
The arm on the left I have used for a long time and the red one on the right is a new addition.
I have these arms on a steel steel base. A magnet is in the bottom part of the arms and holds the whole articulating arm device on the steel base. By turning a lever you can release the manet and position it anywhere on the steel base.
Using different tweezers and clamps at the ends of the arms gives you an ability to hold your work in place. Each arm can hold a different work piece and then with the pieces held in place you can solder.
I created an "Instructable" to show how to make one of these "Ultimate Third Hands".
An instructable is a set of instructions and accompanying photos uploaded to the "Instructable" website.
I have several photos and instructions on how to make one and suggestions for the use of this idea on the site.
You can see my instructions on how to make and use this here…

I encourage you to take a look at the instructions and see ideas for its use and see how this can help you do your work easier and faster!
If you find my idea useful and it makes your life at the bench better, then I am very pleased.
Best regards to all,
Franklin
Note From Ganoksin Staff:
Looking for a third hand tool for your jewelry projects? We recommend: