I really like your makers mark, the little anvil very nice!

Thanks Jeff, it's a carry over from my bladesmithing days. I still do a knife every now and then but focused more on the silversmithing. Somewhere, somehow I'm going to marry the two!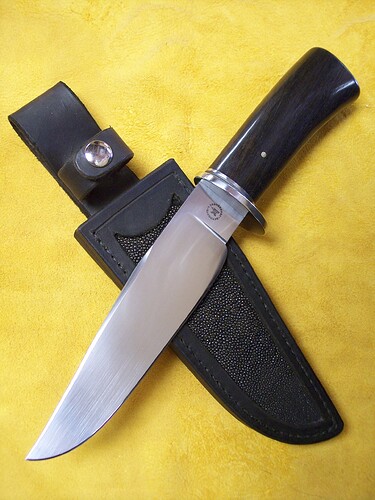 Thank you for your kind words.
Yes. Make the bezels first and solder on any decoration. Not only do the embellishments add to a design but they also serve to keep the bezel walls separated from each other, thus making setting the stones much easier.
Jo
I have a fascination for making knives. Are you making your own blades? Forging raw? Cutting from stock? The photo is a very handsome cutter. Simple and elegant.
Don
Hi Don, thanks for your kind words!I attended the Bill Moran School of Bladesmithing in 2004 where I began to learn the art of the forged blade. I won the best new amateur award at the Blade West Show in 2006 and best in class for a forged blade for my bowie in 2007. But yes, I also do stock removal knives, a little more these days since since my R rotator cuff surgery and now looking like my L will need it. That's partly what got me into silversmithing; I needed an outlet for my love of metal that incorporated art and less physically demanding. Everything is from "raw" material which includes the sheaths. I know this is a jewelry forum so I'll try not to get carried away, but I have made neck knives as well that folks wear as jewelry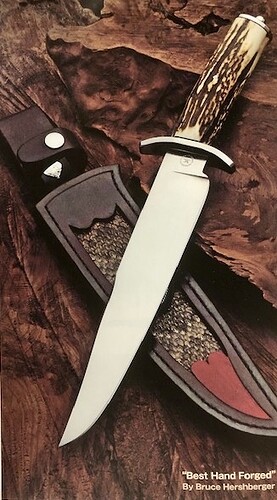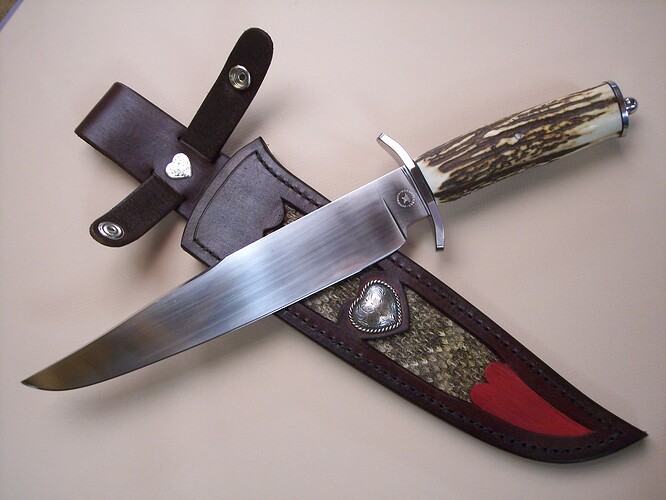 If you want to combine silversmithing and knifesmithing what about gentlemen's folders? There's quite a market for decorated EDC folders.
As an aside, I had the pleasure to meet Bill Moran years ago at a symposium on damascus blades hosted by the Arms and Armor Dept. of the Metropolitan Museum. As well as a guiding force in American knife making he was a real gentleman.
Hi Elliot, I've collected quite a few folders over the years but only made one friction folder (Damascus & Sambar stag). They are a whole different animal than what I do. My only jig is to file the flats on the ricasso where it meets the guard, otherwise it's all freehand and by eye. When it comes to folders, dead flat is the name of the game. I don't have a surface grinder or a mill. By hand on a granite surface plate and sand paper is a lot of time and work! However, I will be retiring soon so branching out is not out of the question! But you are absolutely right, it's much easier to incorporate jewelry techniques into folders rather than fixed blades.
BTW, what a privilege to have met Mr Moran, the father of modern day damascus and custom bladesmithing! Unfortunately he was not present at the school when I attended. My instructors were Joe Keeslar and Jim Jackson. Jim was the Queen of England's armorer before retirement. And as CA Knifemaker's Club President for a year I had the privilege of hanging out with Bob Loveless at his Riverside shop. We are indeed blessed!
This is an in-progress piece I was working on today that's a good example of how I use the Wolf Clay. This is a pendant I make pretty often and it used to be super hard to get the custom bezel to line up to the casting (bee body) to solder together. I also need the body and the bezel to tilt slighty away from each other to accommodate the wings. I make a little slit on the bee body and extend the back plate of the bezel at the top to slide in a bit. This is still wobbly though and I used to have to try all these weird bindings and clamps and precarious balancing acts for it to hold. Now I just smush it in some clay, and wiggle it until it's how I want it!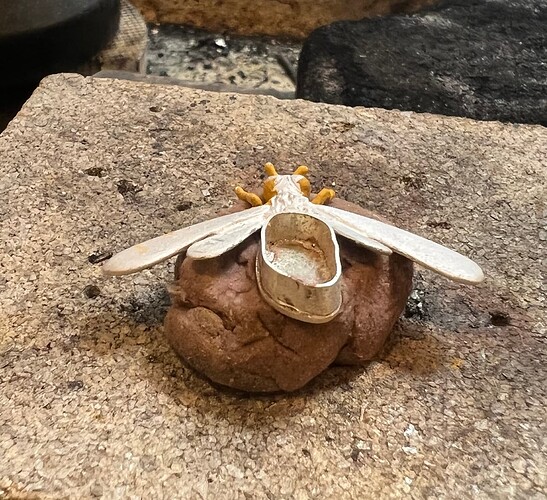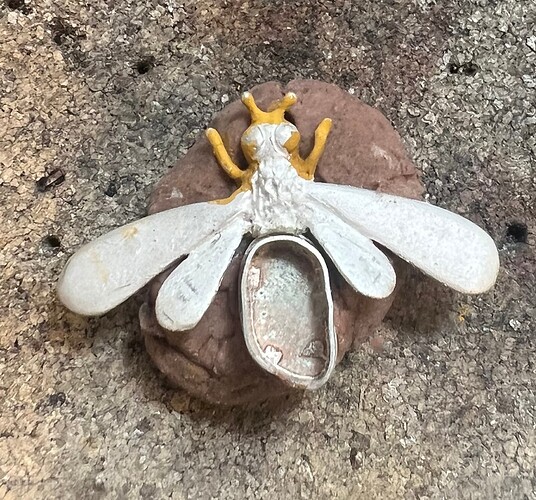 Hope that helps with imagining how it can be used.
Jo, that helps a lot. And that is cool! do you do your own casting? I like that you use language I can understand…"smush"…I get that!
Hi Bruce, not an expert silversmith - still (and hopefully forever) taking classes. But someone mentioned ochre and I remember being taught to use that to inhibit the flow of solder, but that's not your primary issue (altho it may be helpful to manage solder flow).
To protect the full piece from heating and flowing all the solder, I was advised to use a product. I think JettSett but could be wrong, I'm sorry, I don't have the time to research the precise product but any reputable supply house, (we all know who they are, the two I use the most are Rio Grande and Otto Frei), can advise you on the correct product . I second the necessity of using multiple flow rated solder
I agree with forming the metal first and definitely flatten the back plate before setting a cab. Binding wire great idea, also remember "third hands" and carving divots in your firebrick or charcoal (all three are also heat sinks which can be used strategically) or using a pan of small pumice stone instead of firebrick or charcoal to hold your piece for soldering.
All the best, love your designs. Let us know how it goes!
Hi laughingcat! Thanks for your reply and direction. I picked up from RG some of their no flow and it does a good job of preventing solder flow where you don't want it to go. I also use Jett Basic and use it all the time, primarily when setting the stones. I never used it like the clay, more for fixture setting. I've burned my fingers with the stuff more than once until I finally figured out the "secret" to avoiding it
I'll go searching for the product you think it might be…and thanks for the encouragement!
Bruce
Beautiful job, also great work on the photos.
Hello, definitely not Jettsett- I use that for setting stones, but it's a moldable polymer that softens in hot water- it won't take heat! I do tons of custom bezels- the Wolf Clay is something I will look for, thank you for the tip! Talking about lots of solders close together, here's a grandmother's ring I put together a while ago. But I cheat- I bought a Hydrofux welder 25 years ago, best investment ever!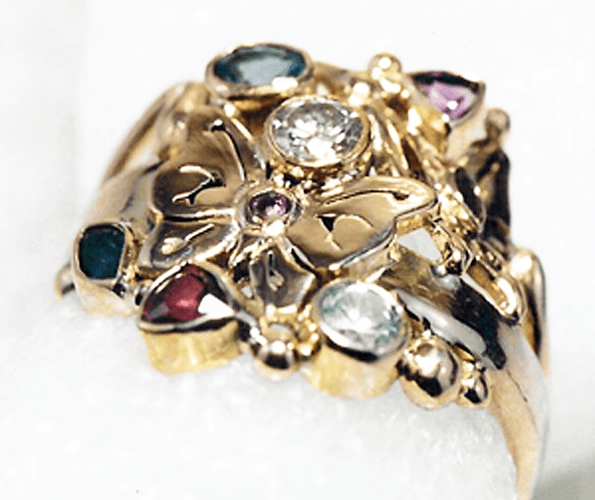 Beautiful work Stephanie! I wouldn't call it cheating; you still have to learn and become proficient in the use of the machine. Maybe not traditional but not cheating either
Awww, thank you so much! It's not a good photo, but it was a crazy piece, lol. That's a 2nd butterfly you see the edge of, with a tiny citrine center. It feels like cheating- I use hard for the bezel solders, but everything else is medium…
I have to ask, why is using a hydroflux welder cheating?
I need all the help I can get so I just went and purchased one.
Can you expand on your experience with one

Jeff