Let's talk about job envelopes
Many stores have point of sale programs that print the envelopes for you on card stock, divided in two, customer and jeweler gets a copy. I want to share with you the envelope we used for take in many years ago. Not suggesting you go back to hand writing again but to discuss the "disclaimers", what you cover, instructions and such.
Disclaimers: Jeweler love to have on their envelopes "not responsible for jewelry left over 90 days". Not true. Check with your state. I'll tell you about Georgia law. You have to hold onto customer's jewelry for one year and they have to then be legally notified that they have 10 days to pick it up or you can sell the items for what you charged to repair them. If you charged $50 to fix a $3000 ring you can sell it for $50 and they've lost. On the other hand under state law if you sell it for more than the repair charges of $50 you have to keep a record permanently and if they ever come back you owe them the difference between the $50 you were allowed and what you sold it for. What you type may not hold up in a court of law.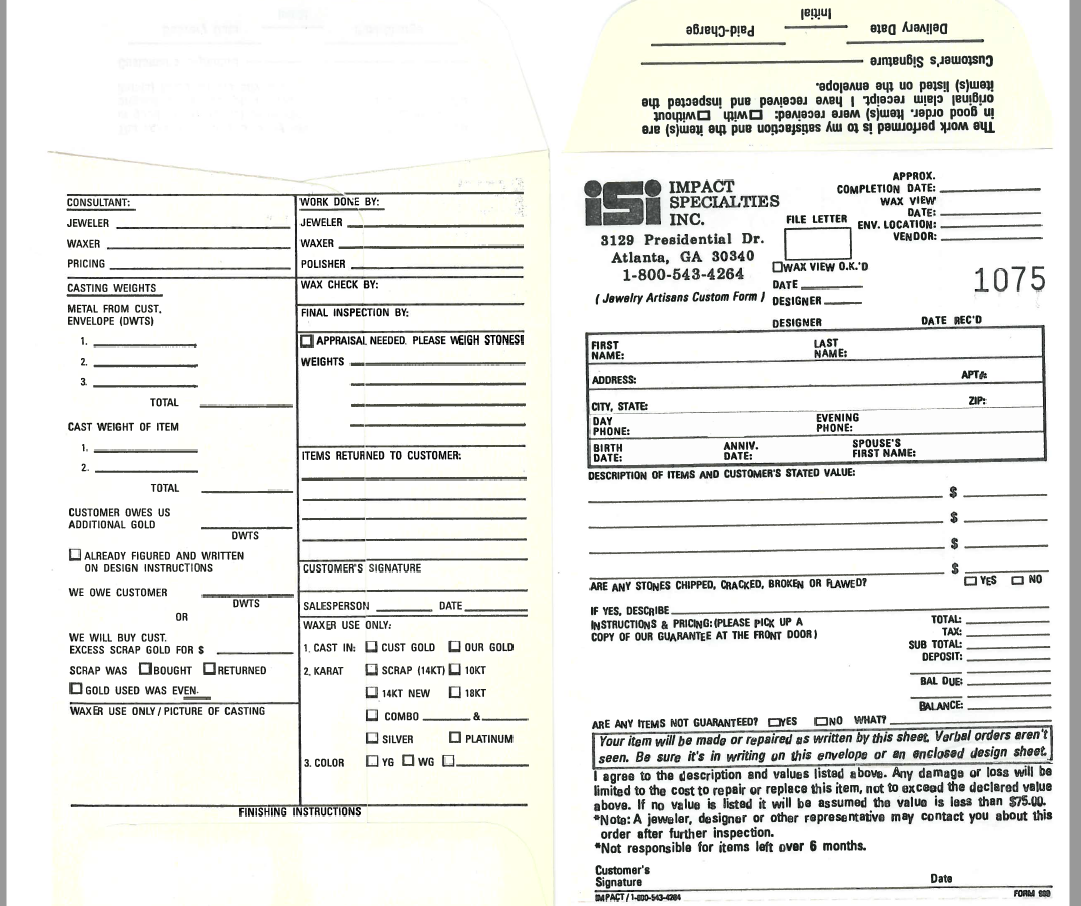 So let's go over WHY I have things on our envelope.
Name Box. We get every customers contact info and put it in our POS software mainly so we could send out thank you cards later and direct mail. Notice the black rectangular box around it? I gave the customer the envelope with a pen and said "please fill in everything inside of this box". It helped ME because I had a hard time remembering people's name.
Description and value. Describe what we took from customer and YES we asked for a value. I wanted at least 75% of what we took in to have a value. Forget the arguments about appraisals we needed to have values so when the Jewelers Mutual agent came in yearly and said "how much shall we insure customers jewelry for?" we added them up.
"Are any stones chipped, cracked, broken or flawed?" This was done mainly to get the sales staff to notate this.
Instructions. Yes I know it isn't a lot of room but we had another WIDE design sheet we used that goes in the envelope if we needed it.
Money and balance on right: Obvious
"Are any items not guaranteed?" Every customer assumes everything is guaranteed for 12 months. Majority of what we repaired was guaranteed for 12 months. We notated here if we wouldn't guarantee an item. An example is we couldn't guarantee stone loss for small stones unless it had at least 4 prongs. 3 prongs? Can't guarantee those.
Box with "Your item will be made or repaired……" This was to make sure the customer spoke up if the sale staff did shortcut because the jeweler may not know what the sales staff told the customer. We didn't accept envelopes that said "See me on this job".
Our disclaimer is right below this statement and also notice it reads "a jeweler or someone might call you after further inspection" just to let the customer know.
"Not responsible for items left over 6 months." I already told you in Georgia it's a year. I put this on there just to get the customers brain into "can't leave this stuff here. By the way most stuff left for a long time was inexpensive jewelry: costume and silver. On those repairs we required the customer to prepay. We had our money and they usually picked it up.
Top right: Completion dates. There is a finished and ready to go "completion date". We did a lot of designing so you can see there was also a "Wax View" date. If we had to order something you can see we already had an envelope location and the vendor name.
TURN ENVELOPE OVER, down the first column:
Consultant: Sales staff might fill this in, where did they get their information on what to do and pricing? Now we know who to ask.
Casting weights. Used for designing. So the foreman put how much gold the customer might have left us to make the ring and that's in the first 3 lines. The weights the casting(s) are put on next lines. The foreman does addition and for the BENEFIT of the sales staff the customer is going to:
a. Owe us some more gold
b. Will have to buy additional gold
c. If they gave us more than we needed they can get the excess gold back (melted blob)
d. or we will BUY IT from them. This is where we got a lot of gold for people who needed to buy extra.
TOP RIGHT
Work done by: This way we could always go back to those 3 people. Yes, we had a separate polisher on staff. Don't you?
Wax checked by: Someone is checking the wax prior to customer viewing, making sure it's what they wanted and notating envelope for correct weight of item.
Final inspection: usually shop foreman.
Appraisals needed, weigh stones. We also had blue stickers we placed on the front of the envelope to get the jewelers attention to weigh the customer's stones before setting. If they forgot-we docked their pay $5.00!
Items returning to customer. For records in case customer asked later. If they gave us 20 diamonds to make a ring and we used 15, 5 were notated. If we returned a broken clasp, it was notated.
Customers signed for items returned and also signed below by whoever delivered the job.
Waxer use: This actually tells the foreman and the person doing the casting what they needed to plan for.
Finishing instructions. Anything special was notated here and this space was also used to draw pictures of the item in the envelope as we emptied many envelopes at once, polished many at once and thus could put them back in the same envelope.
Custom envelopes and our design sheet and other forms we used can be viewed and order at Impact Specialties:
http://www.isiprint.com/jewelryforms/geller.html
With so many programs now printing the job bag you can take this information and either type it in the program or better yet have the other side of the printed form to have this valuable information.
David Geller
Director of Shop Performance.