Kate Wolf Transforms Ring Sizing with the TRUE-SIZE System
http://www.ganoksin.com/gnkurl/ep8173
"One of the greatest pleasures in my life is that I get to take my
frustrations out on my tools," says Kate Wolf, bench jeweler, tool
designer and lover of all things well crafted.
So what's her latest frustration? Inaccurate ring sizing.
"I've bought every set of sizing rings I could find over the years,"
she says. "Not one of them is accurate."
That inaccuracy was having a negative impact on customer service
(not to mention frustrating bench jewelers the world over).
"When the sizing rings and mandrels are inaccurate it results in
compound errors," says Kate. "Then the customer comes in, she lights
up at seeing the beautiful ring you've made for her, she puts it on,
and is disappointed to have to leave the ring behind to have it
resized. It sours the transaction."
Her solution? Build a precisely calibrated system that is truly
accurate, from the counter to the bench and back.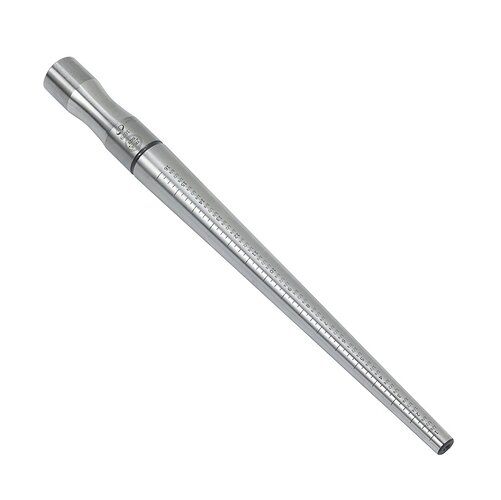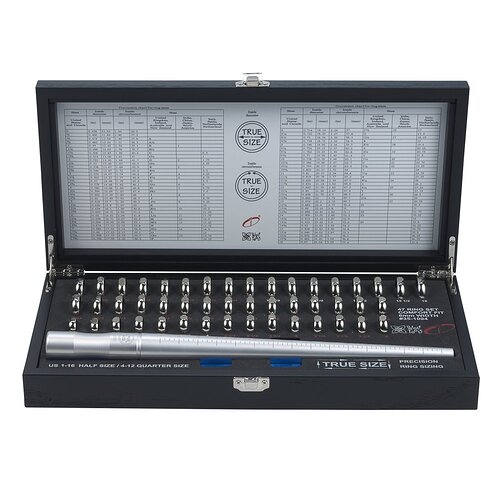 Kate partnered with George Khanduja of Ikohe to design and
manufacture the TRUE-SIZE ring sizing system. The TRUE-SIZE mandrels
and ring sizers ensure that a size 6 measured with the customer at
the counter translates to the exact same size 6 at the bench,
eliminating costly resizing efforts, disappointed customers and
frustrated bench jewelers with one system.
The TRUE-SIZE set comes in a wood presentation box that displays
beautifully on a counter. It contains 47 stainless steel sizing
rings that look and feel like real rings and an aluminum sizing
mandrel that is clearly etched in quarter sizes (because half sizes
just aren't accurate enough).
Two steel mandrels, one grooved and one smooth, complete the system.
They are also etched in quarter sizes and are perfectly calibrated
to the counter set, so bench jewelers can form with confidence and
create the right size the first time.
"I have no doubt that the TRUE-SIZE ring sizing system will be on
the counter of jewelry shops all over the country in no time and
will replace all other mandrels in the workshop," says Kate.
The complete TRUE-SIZE system is available at
http://www.ganoksin.com/gnkurl/ep8173
Jeweler, tool maven and educator, Kate Wolf has been carving wax and
making jewelry for 36 years. She won MJSA's Innovation Award for her
Wolf Tools and Wolf Wax by Ferris and continues to develop tools for
jewelers. Kate is a former Director of Production and master
model-maker for the Franklin Mint, and she holds a BFA in
Metalsmithing and Jewelry from Tyler School of Art.
One of the nation's largest suppliers to the jewelry industry, Rio
Grande was founded in 1944 by Saul Bell, a bench jeweler committed to
giving jewelers the tools, supplies and know-how they need to excel
at their craft. Today Rio Grande manufactures and distributes tools,
equipment, gems, findings, displays and packaging for jewelers
across the world.