Continue from:
https://orchid.ganoksin.com/t/jewelers-former-lives
Here is the report on the "Former Lives of Orchid People" It's taken
longer than I expected to compile the data, mainly because I was
sidelined by hand surgery on my right hand (that thumb joint surgery
we talked about a few months ago.) Somehow I didn't realize that I
wouldn't be able to write or type for awhile. I tried one handed
typing, but it didn't work. However, it is all coming along very
nicely, and I can actually type with two hands now.
I hope everyone will participate with comments questions, ideas,
conclusions, even statistics for those so minded. It was a really
interesting task, and I hope to glean more interesting information
from the data to share with you at some later date.
Pre-Jewelry Occupations of Orchid Members
We received 154 individual responses to our query about what other
"lives" if any, Orchid people had before they became jewelry
artists.
Our original notion that the occupations would be easily
characterized evaporated very quickly. Orchidians have incredibly
diverse experiences. We decided to count each response only once, and
to put it into the category that appeared to be most relevant:
longest lasting, primary intentional field of study.
Next came selecting the categories. We started with The Standard
Occupational Categories (SOC) of the US Dept. of Labor, Bureau of
Labor Statistics. We then modified the list to conform better to our
responses, and to reduce the number of categories (23 for each major
occupation). This resulted in 19 categories and we further combined
those with the fewest numbers, ending with 11 occupational
categories.
The table below shows the number of responses in each category, as
well as their percentage of the total number.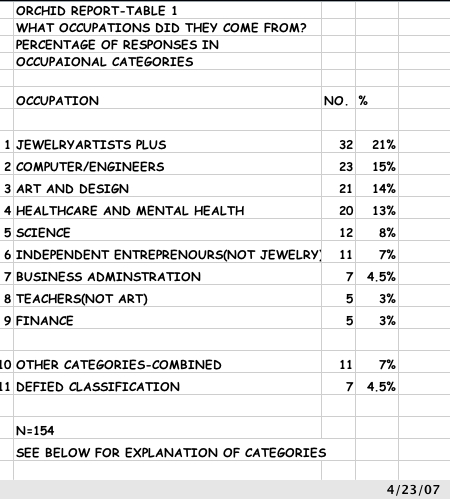 Category 1. Jewelry
32 respondents- 21% of the sample.
This category consists of people who have been jewelry artists
all their working lives. They may have taken some detours along
the way, or done other things as well, but always secondary to
jewelry.
Category 2. Computers/ Engineers.
23 respondents- 15% of the sample.
We found it necessary to combine computer professionals with
engineers because there was so much overlapping within and
between the two professions. This category represents civil,
electrical, electronic, software, technical engineers, as well
as a variety of computer professionals.
Category 3. Art and Design.
21 respondents- 14% of the sample.
We included all artists and designers of different kinds in this
category.
They are: Fine art (painting and sculpture)., art teachers and
art administrators in universities, professional cartoonists,
commercial artists, display/
fashion/graphic/interior/textile/and theatre designers,
musicians…
Category 4. Health Care and Mental Health
20 respondents- 13% of the sample.
This category is comprised of the following professions:
Anesthesiology, Dental professionals, Hospital Administrator,
Optician, RNs, Veterinarians, Mental Health Counselors,
Psychologists and Social Workers.
Category 5. Science
12 respondents -8% of the sample
The scientific community that found its way into making jewelry
was extremely diverse. Our respondents listed agronomy,
bio-medicine, biology, chemistry, entomology, food science, lab
technician, and materials analyst.
Category 6. Independent Entrepreneurs (non Jewelry/Art)
10 respondents - 7% of the sample
Includes automotive, electrical, garment business, heating
business, transport, tools.
Category 7. Business Administration
7 respondents - 4.5% of the sample
Includes management and marketing.
Category 8. Teachers (non-art)
5 respondents - 3% of the sample
Includes teachers of languages, secondary education and
handicapped children.
Category 9. Finance
5 respondents - 3% of the sample
Accounting and finance management.
Category 10. Other
Each occupation represents 1% of the sample. Legal Services, Food
Services, Full time Mom, Graduate Student, US Army, Minister
Category 11. Defied Categorization
7 respondents-4.5% of the sample
Each respondent had multiple and varied vocations, all of which
seem to have led them to being jewelers.
SOME OBSERVATIONS
Although Category 1, those who started out as jewelers, had the
highest number, and therefore the largest percentage of responses of
the individual categories, they comprise only 21% of the total
sample. 79% of all the respondents came from other fields of work. I
wonder whether there would be a larger number of people who are
'lifetime' jewelry makers in countries that have a formal
apprenticeship program,?

We can't really assume that this is representative of all Orchid
members (8000 to date), nor of Jewelry makers in general because our
sample is too small, and because the people who responded were 'self
selected'. Since they chose to be part of the study, they may have
something in common that others, who chose not to, do not share.

Categories 2,3 and 4 were very close in numbers, and the
differences are probably not statistically significant. As a group
they represent 42% of the sample. What characteristics are there
about the computer professionals, engineers, artists, designers and
mental health people in our group that is similar to the lifetime
Jewelry makers? Our study doesn't answer that question, but would
anyone care to speculate?

The smaller categories represented many different groups, Many of
our people were exposed to various forms of art and craft as
children, and had good feelings and memories. Some went for
'practical' fields, only to discover that they were unhappy and were
willing to risk their livelihood to take on a new challenge that
beckoned them.

The table and categories do not begin to reflect the
extraordinarily complex lives and interests of everyone who
responded. As I read the e-mails, I was really fascinated by the
kinds of jobs people had along the way to their final career. I am
hoping to take a good look at that and compile a
separate report.

Last but not least, I was really impressed by their sense of
humor, their ability to laugh at themselves and keep their lives in
perspective. And we all know how kind and willing to help one
another they (we) all are.