If you are in need of a bench jeweler and your store is in AL; AR; AZ; CA; CT; FL; GA; LA; MI; NM; NY; NC; OH, SC; TN; TX and a MAJOR CITY, read on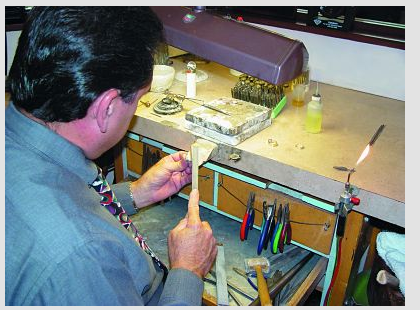 Bench jewelers are very special people and are very hard to come by and I have 10 that are ready to come and work for you.
Some are "more special" than others.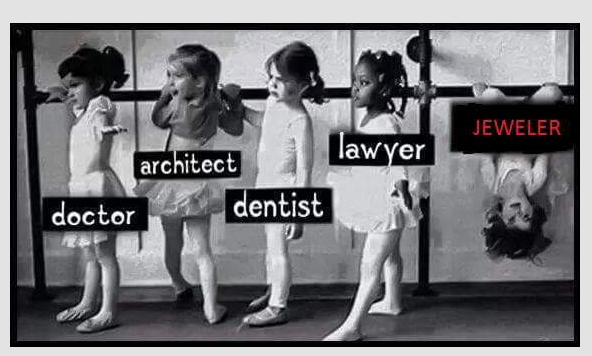 Fresh off the vine: Fully ripened Thursday November 16th, 2017.
My friend Blaine Lewis runs the finest bench jeweler school in America. He trains jewelers from scratch in 13 weeks and the latest class graduates November 16th, 2017.
There are 24 in class, fully trained. 14 already have jobs lined up but there are
10 highly trained bench jewelers willing to move across the country to work at the bench. Grab'm while they're hot!
There is ONE JEWELER who says they will move to any MAJOR CITY.
(I assume they mean large metropolitan city).
I will post this person at the very end of this newsletter. Remember "major city".
If you are in these states (or a major city); these are the states they have agreed to be interviewed in so please read on.
AL; AR; AZ; CA; CT; FL; GA; LA; MI; NM; NY; NC; OH, SC; TN; TX and a MAJOR CITY.
If you are not in these states or not in a major (big?) city then close this email, there is such a huge demand I can't imagine one of Blaine's students not getting a job almost instantly.
Let me tell you the qualifications.
Blaine has the largest school in America outside of Nashville and he is an awesome teacher. All of his students can virtually set anything in addition to all types of repair and fabrication.
This is a look inside of his newest classroom
These jewelers are trained over 13 weeks in his Graduate Jeweler program.
This is what they learn:
Essential Skills Learned in Graduate Bench Jeweler Program:
Safety and Workstation Fundamentals
Core Skill Development
Metallurgy and Gemstones
Stone Setting
Repairs, including prong repair and replacement, ring sizing, chain repair and problem solving
Business Ethics and Career Paths
Soldering and Repair Techniques Level Two
Chain Repair Level Two
Sizing Rings containing stones
Stone Setting Level Two
Bench Tricks and Tips
Finishing Methods
Silver and Gold Fabrication
Plating
Introduction to Ornamental Hand Engraving
Advanced Stone Setting
Platinum Fabrication
As you would imagine these are typically energetic and excited people that have paid their own way for school, moved to Nashville to attend 13 weeks of training and unlike me at their age they are excited to start their new career and move away to a new town.
So if your store is not in
AL; AR; AZ; CA; CT; FL; GA; LA; MI; NM; NY; NC; OH, SC; TN; TX or a MAJOR CITY
Close this email.
But if you are and in need of a jeweler read further please.
Blaine's teaching is to make a jeweler able to sit at a repair box and do most anything in that box. Sizing's/shanks/heads/tips/set any stone and a take loose gold and wire and hand fabricate items.
You might ask: what's the down side? What can't they do?
In class they are not taught cad/cam nor wax carving. But who better to train if that's what your store does!
Another: They may not be the fastest on the block but they will be good and speed always increases with time.
As your repair money maker guru it would be best if these new jewelers were hired in a store to work alongside a jeweler now. Someone to help push their speed and skills.
If you hired an inexperienced person and trained them by the old apprentice method they probably wouldn't be as well trained as these jewelers and it would take 5 years to get where these folks are now.
They'll make you money in repairs for sure, they can fabricate plus if you're doing wax carving or cad/cam now after the item is cast you can hand this raw casting off to any of these students and they'll give it back wonderfully assembled, stones set straight and tight and very neat.
This is a ring set in their class. This is their quality.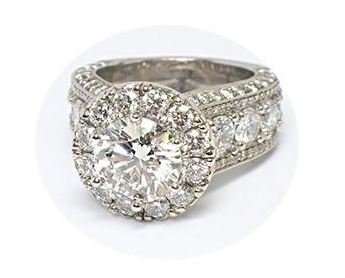 But I'm sure if you don't have a jeweler at all and need one I say give it a go.
Class ends on November 16th, they are available after that depending upon their schedule.
Starting pay: A few in addition to being a bench jeweler have their GIA GG certificates so depending upon skills and your city cost of living starting pay is $19 to $24 an hour.
If you think you can negotiate them down from $20.00 and hour, don't even respond.
These students just spent $17,000 to $19,000 for 13 weeks. My book on pricing repairs is BASED upon paying a jeweler from $40,000 to the high $55,000 a year.
See this workbench? If a jeweler has more work than they can do in a day a work bench should provide the store with bench sales from $185,000 to $250,000 a year!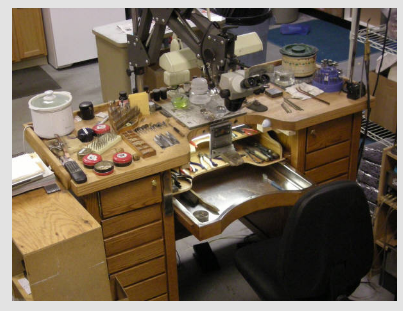 You can afford $40,000 plus a year and they are worth it.
To make sure you make this money and pay these people well if you hire one of these jewelers I will put my money where my mouth is. I will GIVE YOUR STORE on copy of our current repair book to make sure you make this money absolutely FREE.
Remember profits from the shop have much more to do with what the sale people charge than the speed of a jeweler.
SO HOW TO I CONTACT THESE PEOPLE?
A. Send me an email:
B. In the subject line or the TOP inside line of the email itself type (or copy) this:
"I need a jeweler, I'm in (name of state)"
It should look like this on the subject line or in the email itself and include COMPLETE contact info, as example shown.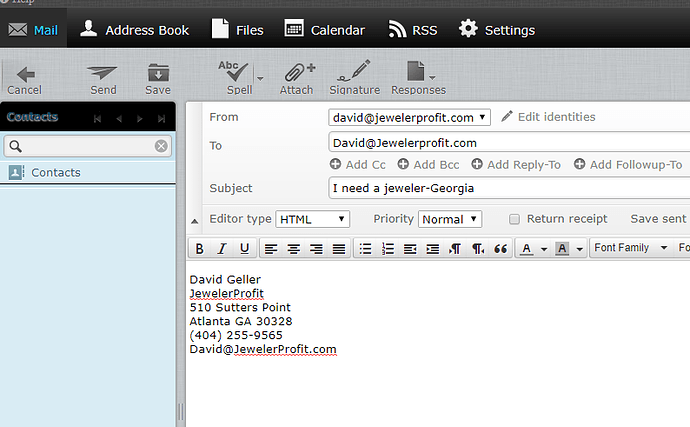 C. I will send to you just a listing of the jeweler or jewelers looking for positions cities in your state only. They will also have a little blurb about themselves.
Because of all of the scams on the internet I'm not posting everyone's contact info at this time. Hope you understand why. Hit "reply" or send me an email if you're ready to hire someone and your store is in
AL; AR; AZ; CA; CT; FL; GA; LA; MI; NM; NY; NC; OH, SC; TN; TX and a MAJOR CITY
If you don't see your state listed here, sorry that didn't interest these new jewelers. But if so contact me I'll send it over those who like your areas.
All of these new jewelers prefer to FIRST be contacted by email. Only some have given a cell number.
This is the one graduating jeweler who said she would move to any major city.
She also wants to work in custom and fabrication. If you live in "Podunk city-entering and leaving sign is on the same bridge", small population, don't bother. Sorry
Any Major City Jeweler: (I understand she is top notch)
Karina Roberge k.c.robarge@gmail.com
I am interested in fabrication and custom work. I problem solve well and enjoy challenging work.
By the way here is a short video showing you information on Blaine's school and class. He has two 13 week Graduate Jeweler classes a year and in between has 5 days classes in basic/advanced repair and basic and advanced setting:
Click and it will take you instantly to YouTube and will play.
If interested in these jewelers send me an email and in the subject line
"I need a jeweler, I'm in (name of state)"
Or email me at
david@JewelerProfit.com
Hoping you have a great Thanksgiving and a great season
David Geller
Shop profit Coordinator
David@JewelerProfit.com
P.S. How to get your free Geller Blue Book when you hire one of these jewelers. Easy, when they come to work for you send me an email and send a picture of you and the jeweler attached to the email and whether or not you have a book now we'll send you one. Just send me an email and a picture of you two, similar to this picture of two old guys and I'll send you your free Geller book.