Hi there!
I'm coming to you now because I am stumped! Ive been experimenting with this for months, and alas I still have no solution other than "make it work". This year I got an Elegoo Mars Pro 3D Printer, and started designing my jewelry on the computer, which has been incredibly exciting and beneficial. With that said, The casting aspect of this new process has continually given me issues that I cannot seem to resolve. I will share pictures of my issues, along with my steps, process, and supplies. If you have any ideas or solutions to this issue, I am at my wits end and would love to hear them!
Related Equipment:
-Elegoo Mars 3D Printer (https://www.elegoo.com/products/elegoo-mars-pro-lcd-3d-printer)
-Power Resins castable BURN Resin (https://powerresins.com/products/powercast-burn-castable-resin)
-Centrifugal Casting Machine
-NeyCraft Oven with Digital Controller
-Prestige Optima Investment (https://www.certus-int.com/optima)
-Allied Mineral SC20, formerly Kerr Satin Cast
https://www.ottofrei.com/Allied-Mineral-SC20-Investments
Main Issue
All of my 3D printed casts come out terribly textured, pitted, or blown out.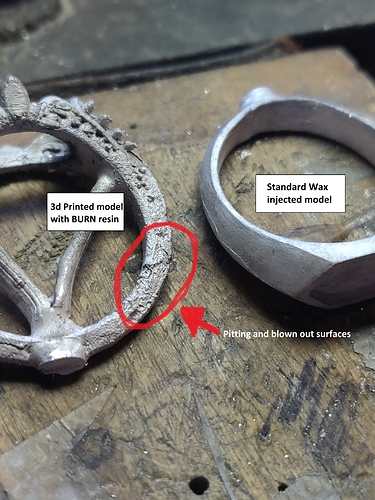 Things I've Tried
I have tried casting with Allied Mineral SC20 Investment, which is an industry standard for wax jewelry models. The burnout cycle with this investment is much shorter, but I have similar results.
I have also tried mixing 1% boric acid powder into the water before mixing the investments to harden the mixture and prevent breakage, but had similar results…
-Contacted the resins manufacturer for help. no luck
Process
Print the model
dip in quick bath of alcohol, then quickly clean model with water
Dip model in Ultrasonic cleaner to shake loose any remaining uncured resin.
Pressurized air dry
Sprue model and attach to sprue base.
Mix investment and water at reccomended ratio for 3 minutes, then vaccum to boil 29.5cfm (aproximatly 2 minutes)
Pour investment mixture into flask slowly
Vacuum filed flask to boil for another 2 minutes.
9.Let Flask rest for 1-2 Hours
2-3 hours into the burnout, after letting the wax sprues melt out, I flip the flask over (button up) for the remainder of the burnout to allow the resin fumes to escape the flask.
After cycle is complete, I melt the metal in my crucible until sufficiently hot, and then insert the flask into the casting arm at 600 C (1,100 F)
I cast with a centrifugal casting system, similar to this https://www.riogrande.com/product/spring-driven-centrifugal-casting-machine/70502000
Immediately submerge the casted flask into chilled water, cooling the model.
remove and rinse casted model with water.
I have spent countless hours and hundreds of dollars on Investments, resins, etc. trying to figure this out. I know it is possible with what I have, I just have to figure out what I'm doing wrong! Any ideas?