Wanted to make my own cufflink backs
@rc2 does make a fair point… @stefhopkins to the extent a question can be answered with a simple search of Ganoksin or the Orchid archives, and no additional clarification, augmentation, or update to the information is required, it does not require a new thread.
A better new thread would be focused on a specific aspect of the process, perhaps…
Hi.
Thank you for responding very much.
I'm trying to fabricate my own Cuff Link backs.
I purchased Hinges and claps from Tim Mcreigth and it was very helpful. It showed me 1 cuff link back I could make, However I'm trying to fugue out how to make 'Whale cuff link backs there called, they seem much nicer
Stephen
'Whale cuff link backs-------pictures?
Hi, Stephen,
I have no idea if it's what you're looking for, but on pages 108-9 of Elizabeth Olver's book, Jewelry Making Techniques Book, she has instructions on how to make a toggle fitting for a cuff link.
Tricia
The nicest cuff links don't use a spring toggle. they have an ornament on both sides of the cuff connected by a curved bar or a hinged bar or a bit of chain. Ones connected by chain can be hard to put in.
If the ornament on the outside of the cuff is too big to go through the buttonhole you can make the inside one a bit smaller. And they don't have to be identical. The inside and outside designs can be complementary. If you want both sides of the link to be large, they can be connected with a bit of spring gold bent into an oval or peanut shaped clip.
Here's a simple pair of onyx and diamond links connected by a bit of spring gold.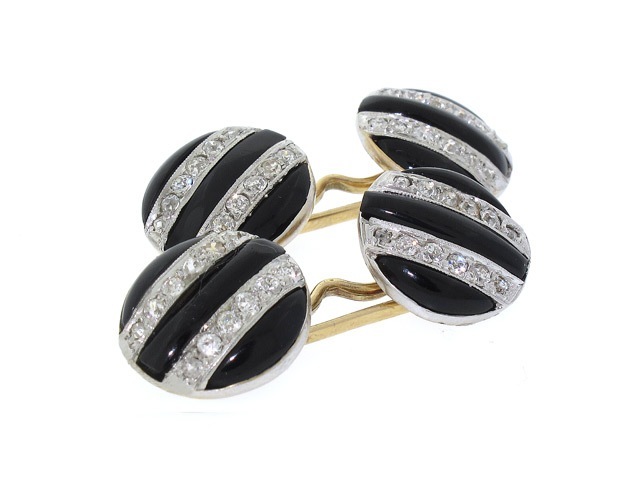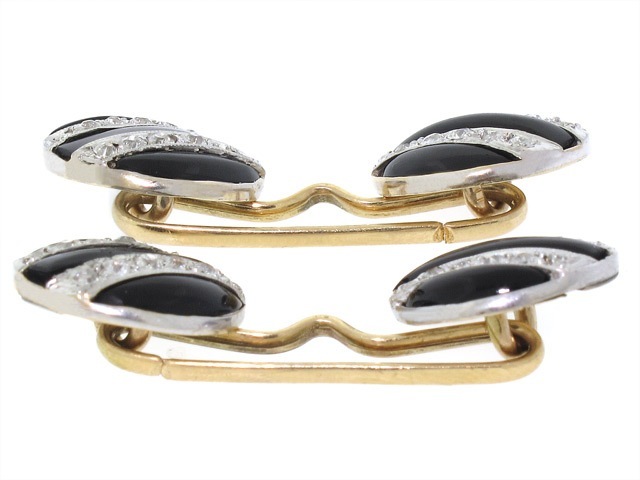 Here's a pair connected by chain, with the halves complementary rather than identical.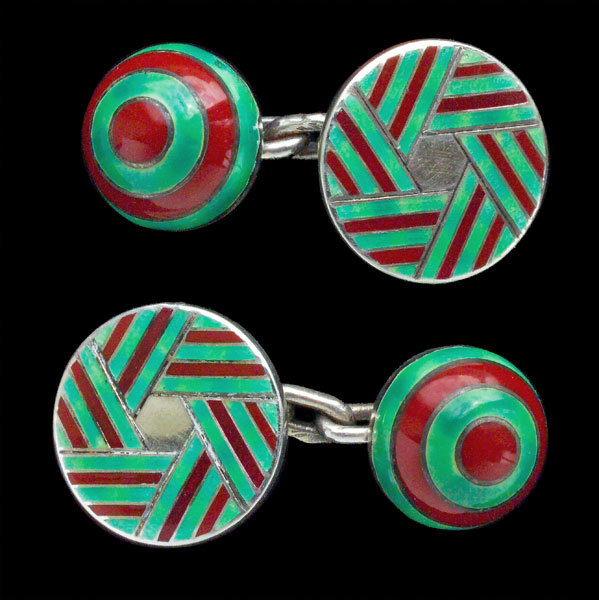 Great post, I've been wondering what is best to make for these. Personally, I think the chain connected cufflinks present (look) the nicest compared to the spring gold design. But since they are both hidden I guess that doesn't matter. I'm glad it was mentioned that the chain connected ones may be hard to put in the cuffs. So now I'll rethink all of this.