SUGGESTION HOW TO SELL MORE AT CHRISTMAS AND UNLOAD "SOME" OLD STUFF
Almost everyone coming into your store needs to buy gifts for those OTHER THAN LOVED ONES.
Loved ones get diamonds.
But people have to give gifts to
• Teacher
• Secretary
• Girl Scout Leader
• Baby Sitter
• People at their work
• Neighbors
• Children of friends
These gifts tend to be lower priced items but have you noticed at this time of year for many people price is not an object? I don't mean untold wealth-lets buy a Mercedes? Costco has a sale on steaks
• New York Strip steaks for $149.00
• Japanese beef steaks, 11 pounds for $900!
Here's my suggestion, go to a market place and buy straw baskets and colorful paper.
Make up some gift baskets that would resemble this basket (this is food).
This is the only picture I could find. I have given this idea to others before and works well

Put in here an assortment of jewelry that a person could buy, take home and gift wrap the individual items to give away to this list above. Who knows they might buy the basket and give it to their secretary, sister in law, who knows!
"Seed" the basket with low priced items and some nice but old dog-sold inventory.
PRICING
Net result discount these baskets 25%. Make three different priced baskets (people do better with 3 choices-fits budgets as well.
After discounts have 3 baskets to choose from
$199.00
$399.00
$799.00
Type up a piece of paper showing what's inside of the baskets, descriptions. Total the price and the sale price, so it's easy to sell
Similar to this:
Enclosed
• Silver heart necklace
• Pandora bracelet with 1 charm
• Seiko Watch
• Amethyst 14kt ring
• List price $425.00
• Special price $399.00
Have some baskets ready to go.
Put at least one basket on the counter, if room, put all three.
Signage is important to promote this.
Make a sign to sit in front of these listing, who they might have forgotten, go to Google Images and get some pictures of "people".
It might look like the attached picture I made.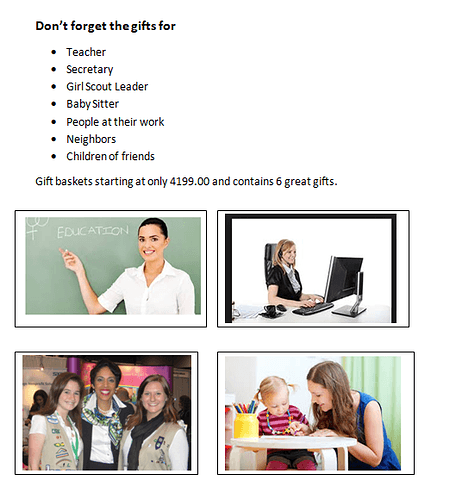 You're fulfilling a need, making extra unforeseen sales and profits and getting rid of "some" old inventory to boot.
Now go sell everything in the case!
david@JewelerProfit.com