How to have a killer "shop week" between Christmas and New Years.
---
We were packed with shop sales that week every year
**
==================================================
After the Christmas rush is over you'll have many of your customers coming back in the store to have the rings you sold that were given as presents sized, watch bands shortened and bracelets adjusted. Of course you'll do this at no charge for your customers and typically on a rush basis.
There will be tons of other people who received jewelry for Christmas who need their rings sized, watch bands shortened and other things fixed or adjusted.
They will come to you for several reasons and a big one is the other stores can't size it for them to wear TODAY or in time to wear it for New Year's Eve.
Many chain stores send their work out and it can't come back in time.
But YOU CAN! Being you're a Geller disciple you'll do it for them and charge the Express Service Charge which is 50% more.
We were swamped that week. The shop was all caught up and all repair jobs taken in during December (after the 10th) weren't promised until early January! So we had the time.
We placed this add in the main newspaper on
Christmas Day (when people received their gifts)
2 days before New Years Eve
This is when I had my store so of course there are now other ways to advertise this:
Twitter/Facebook/Pinterest and your email list and website.
There's a lot more ways to advertise today other than newspaper but don't give up on newspaper. Over 40 year old's still read it. but add it to your main web page, facebook, send out email blasts and add it as a tag line to any radio or TV ads for that week.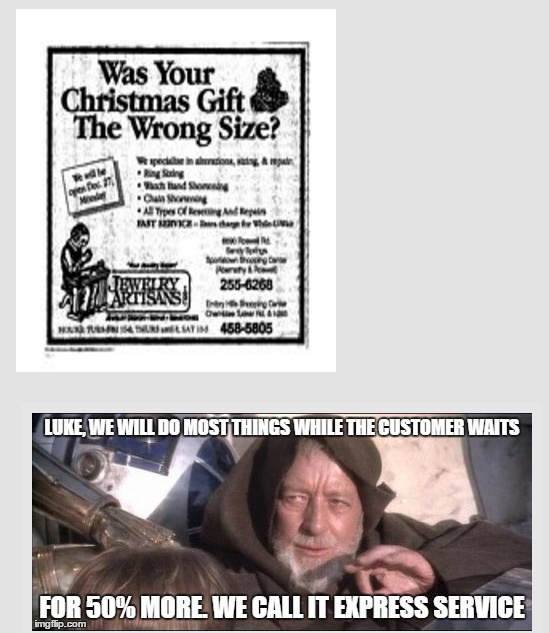 I know its hard to see but the title got them: "Was your Christmas gift the wrong size?" and showed the picture of a ring and a watch which were two things we did a lot of work to that week.
Then it listed
Ring sizing
Watch band shortening
Chain Shortening
All types of repairs
FAST SERVICE-same day service available *
The asterisk "*" led further down the page with "extra charge for rush service" in smaller font size.
We'd offer the express service in our price book which is 50% more for this service. For us with 5 jewelers most everything was done while you wait. If that's a problem offer 24 hour service. You'll find easily 60% of the people will take the express service.
When offering never mention "50% more", offer it this way
"Oh yes we offer an express service. For only $63 we can size you ring right now (or "have it for you tomorrow"). Here, let me size your finger."
If they say "that's a lot to size a ring" let them know that there is an extra charge for express service but its worth it to get it right away. Also when we take in a sizing under normal situations our jeweler might size 4 rings at once. With express service he will stop everything and just work on your one ring."
Just wait, say nothing. They will usually say "OK". If they say something else about the price just continue with "our regular service is 9 days, we can return it to you January 4th and its only $42.00 So which do you prefer?"
Notice most of my conversation is about TIME and not amount the money.
You'll need to plan for this now by calling the newspaper or whomever you're going to advertise this with this season.
Have a great season and a great SHOP WEEK from December 26 thru December 31st.
Sincerely
David Geller
Director of Shop Profits