How do you polish small settings such as this?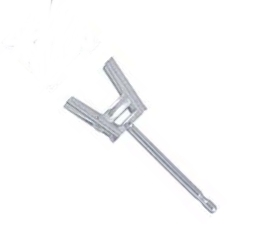 In case the image doesn't load, I'm referring specifically to 5mm round 14K white gold basket setting studs.
The ones I am working with are cast. They look fine to the naked eye but under magnification I can see a slight orange peel texture and very slight flashing.
Tumbling in a magnetic pin finisher for 30 minutes (in 10 minute segments) didn't seem to do much.
I am getting some good results with hard felt flex shaft polishers and Picasso blue, but only where I can get access, which is very limited. I know how I want it to look, but getting that in every spot seems impossible to me.
Skipping over how I can actually hold these things while polishing (I'm using a ring clamp on the post), is there any real way to polish all the metal, or do you just do the best you can with what you can get access to and call it done? I'm not thrilled with that but don't see how to accomplish the results I'd like.
Or just take off my Optivisor?
Neil A