If you didn't get a formal education in jewelry making, what other resources did you use to hone your craft?
I spent 14 years learning diamond setting in a jewellery-factory, environment!
I had the greatest opportunity in having all kinds of setting techniques shown to me.
If I didn't prove myself to the factory staff, of being good, I'd be shown the exit-door!
In those years, we never had CAD. Every technique in setting had to be 100%!
Bezel setting & Gypsy setting had to be Bright-Cut. Even gravers were used on Princess-cut diamonds to clean the claws!
In those earlier years, I was getting the very best training possible. "There was no reason for me to learn anywhere else!"
There were no schools in Toronto to learn this craft. If anyone wanted to learn setting, that person had to find a job to just do the basic setting! Difficult to do this.
The next opportunity was to travel to Europe for 3 years, or schools in the USA.
Go to my blog & read up on my essays!
"gerrysdiamondsettingessays.blogspot.com". What I learned, I'm giving to you!
Gerry, on my iPhone
When I first started making jewelry I taught myself by watching YouTube videos, reading How To books, and trial and error. I made some jewelry using findings and components and then I started working in PMC clay. That was self taught and I liked it so much I did that for years and enjoy that still. I then took a silversmith class at our local community college. So I expanded my art by learning to use flat stock, wire and eventually making bezels and setting faceted stones. Luckily for me the class instructor continues to mentor me and I visit his shop to work on projects often. I happily learn something new from him each time I'm there. Before the pandemic I was his class assistant at the college and not only had the advantage of his teaching in class but I was able to help students myself and that has given me enjoyment. In addition I read many books and articles about techniques and new advances in jewelry making and tools (I'm a sucker for a new hammer or tool)! So even though I have never worked in the business I enjoy my hobby and it seems I have improved my skills over time. I do sell some of my work at local craft shows. I am very happy when someone buys a piece and compliments me on my work. I have won several first place awards at our fair and I have those blue ribbons pinned up in my shop! I'm not a professional but I sure love making jewelry!
Wow! This is amazing and encouraging. I'm starting out on this journey and don't have the means to attend school, so I appreciate you sharing this!
Starting over 40 years ago, I took a short course (adult ed) so I would know what tools I absolutely had to have, to begin with. After that, I just read (and bought) books on jewelry making and practiced (and bought more tools!). I took a course on fold-forming from Charles Lewton-Brain – definitely worthwhile. I also have taught adult short courses on jewelry making. I did learn a great deal from the early Ganoksin, before it became a blog for higher-end jewelry and for folks who (want to) make a living from jewelry making, neither of which describe my situation. I work in base metal (brass, copper, nickel-silver) and am still enjoying it and selling jewelry in a local gallery.
About 40 years ago I was living in suburban Washington DC. I'd been doing some metal sculpture and had taken some sculptural welding classes. I had pieces of jewelry in my head that I wanted to see, looking at shops and galleries, but nobody seemed to be making the kind of things I was envisioning.
I was an associate member at the Smithsonian, and they were teaching a lot of courses; they had whole buildings full of classrooms and studios. I looked at the list of classes they were offering, and there were several jewelry courses. It occurred to me that I already had ideas and designs; all I has to do was learn how to make them. So I signed up. The first thing I learned to do was piercing, and when I first got a jeweler's saw in my hand I looked at it and thought, "Where have YOU been all my life?" I had unexpectedly found my bliss. My background is in psychology, and I never thought I'd end up as a jeweler, but I've never looked back.
I am 71 and have been making jewelry for 47 years. I first learned from my dad. He had learned from Native Americans while he was working at the Chilocco Indian School in Oklahoma during WWII. He worked there and mom was a nurse in a local hospital. As one of seven siblings, we all grew up to the sights and sounds of dad making jewelry in his spare time. While I was a teenager, it embarrassed me to have my friend's mother's come to the house to buy jewelry. After I got out of college and had some time on my hands, I began to help dad polish jewelry when he was getting ready for shows. One thing lead to another and I was making my own jewelry and going to my own shows. I guess that I got over the embarrassment. Since then I have been pretty much self taught relying on a lot of experimentation, reading what books I could get my hands on and, when the internet came along, doing online searches. This discussion board has been a lot of help too. I have always wanted to get some more formal training, but the opportunity has never really presented itself. Making jewelry has always been a hobby for me. I only require that it support itself financially. Having retired now eleven years ago from a career that included teaching, working in the defense industry and school administration, I am a full time metal and lapidary artist. I have let my interest and curiosity drive what I learn and in those eleven years my skills have grown along with my shop and tool collection. I can't imagine not making jewelry…Rob
I took many classes in junior college and followed up with classes at Revere Academy (1970's), read a lot of books and started making a lot of things, later taught classes. Never a business but a lifelong hobby. My uncle taught me lapidary in 1958 so it is more of a lifelong hobby than jewelry making. I currently write a monthly "Bench Tips" column for Rock and Gem Magazine. I love doing it because it forces me to do something different every month.
Late to the party as usual… But I will admit my "formal" training was quite UN-orthodox…
I was a struggling new paramedic with a municipal/rural 911 service (read that as lived it but no $$$)
I had a girl who liked jewelry- and I couldn't afford it. I walked into her favorite shiny-things store one day and the old fellow who ran it asked me "… What can I show you…"
My answer was simple- "I can't afford it… I'd like to learn…"
When he stopped laughing- I was still standing there… I was time rich and money poor- And the old fellow told me to be there Saturday morning… And I was.
I took out trash and polished and went out for their lunches and about 3 weeks of free time he loaned me his book "Concept and techniques" by Oppi Untracht… And told me to "… Browse it and let me know if you have any questions…"
I devoured that book in a week- I showed up that following Saturday with a legal pad of questions and the book was riddled with post it notes…
Long story short- I lost the girl, kept the love of silver and precious metals… When I moved away for another (better paying) job… He gave me his copy of the Untracht book… I look at it often.
I am not any level of "professional" as a career jeweler or designer- I am still a career Paramedic… But I love the way jewelry has taken my mind off stressful calls and allowed me a secondary income over the years.
Mostly self taught, but served as an apprentice for a couple years.
Would you believe that the reason I started making jewelry came down to liking to hit people with big sticks?
Yeah. I joined a group called the SCA (https://www.sca.org/) in the mid 80s. Historical reenactment. And the fighting was in armor using swords made of rattan.
I asked a friend where he bought his jewelry for his costume and he told me he made it.
So he took me to the Recreation Center on Ft Hood Tx, and he handed me a pencil and a sheet of paper. That was my introduction to a hobby that to be honest, I sucked at. Really. I was bad. As in don't compare dog crap to my work as it was insulting to dog crap.
But. I took it up as a hobby to teach myself patience (Jury still out on that part). After a few years, all of a sudden, the things I made were better. I decided that this was less of a hobby and more of a passion, so I cut my hair and started applying to jewelry stores as a sales person.
Eventually, I worked hard on improving by reading books and trying out stuff. and failing a lot!
I have little "artistic ability". I think it is safe to say I have never had any what-so-ever. I have plenty of "creative ability" and that is all I need. I am a better repair jeweler than a custom jeweler by far. I am mostly self taught and now I work hard to teach other how to learn a process correctly . My mantra is "Unlearning a bad habit is much harder than trying to learn a good habit in the first place".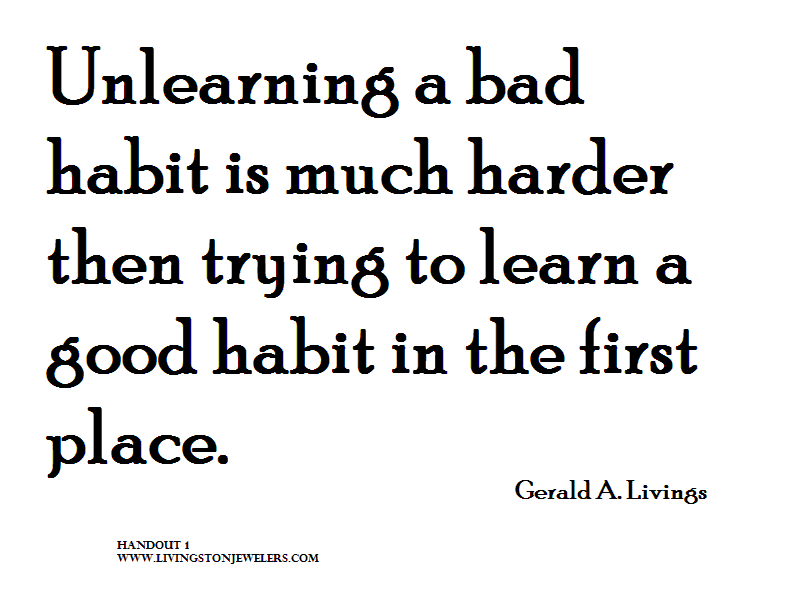 So I am probably the outlier on "reasons why".
Now, there are a lot of great resources to learn with. I would suggest taking some GIA courses and as you are close to Carlsbad…
I wish I were in your shoes.
Also, do not apologize for dumb questions. I have been doing this probably longer than you have been alive, and I still ask the occasional stupid question. While I want to say that there are no dumb questions, I can't. Some people will ask some doozies. Just try to listen to people and do a little bit of research on this forum as pretty much every question you want to ask, has already been asked and answered.
One bit of warning. Ask 5 jewelers for an opinion, and you will probably get at least 14.
So practice, keep notes, and practice some more. let go of the preciousness of your work. I know that last part is hard, but it helps with learning as it lets you look at something you made with a critical eye and no emotion.
If you ever have a question, I am happy to try and answer it for you just like everyone else on Ganoksin.
Jerry
At 69 I have been making jewelry under my own dba and Hallmark since 1993. Not surprisingly Rob and I have a similar tale. I polished for Dad as well. He developed arthritis and about 1978 I was polishing pretty steady. I was working in steel at that time building fishing vessels. Dad would come to the yard and plumb in a few engine rooms and I would polish on the week ends. I made my first bracelets in 1979 but Craft wise It was wood worker being a full time boat carpenter and steel fitter. It all came crashing down with first of a couple serious hand injuries about 1982. The boats were done, the heavy steel work was done, and Dad started teaching me more about bench work. I was pretty much just a pair of hands for Dad for the next ten years. Rob was teaching in a district m quite a ways away by now. In that same time period I had a devastating table saw injury which amounted to having two fingers re - attached. This out an end to my fiddle playing but I recovered ad Dads health failed. My first Craft show was to be a combined show with Dad and Rob. Dad was'nt up to it but Rob and I plowed ahead. Dad died a few weeks later. I finished the few orders he had left on the bench and we buried his Hallmark with him. By 1995, I was making jewellery, planning shows, and learning by doing. Today I am almost strictly a metal worker. Rob cuts stones but I have never. I think I have set a total of 7 cabs. With so much yet to try I don't plan to give up anytime soon.
Don Meixner
Hello Don,
I found the story of burying his hallmark with your Dad particularly touching. Mothering seems to be instinctual, but fathering may be learned and this could account for why some of us had great fathers, others not so much. I thank God every day for what I learned from my father, which wasn't a craft so much as determination, honesty and integrity. You and I were both lucky to have such good fathers. Now I'm working on being a good grandfather. Best, royjohn
I found myself unemployed during a recession in the USA so went to the library and read books on the Great Depression looking for businesses that survived… jewelry came up high on my list so I checked out books from the library and taught myself how to do it. Went on to win numerous national and international design awards before retiring 22 years ago to do volunteer work in Central America.
Based in Germany, I had a classic education. At the age of 15 I started visiting our local bench jeweler two times a week after school (two or three hours a day). I finished school with 16 and started my apprenticeship as a bench jeweler (goldsmith). Four years later I became a journeyman. Then, eight years later at the bench, I took the next step - a two year full time masterclass. I became a master craftsmen - I don't know, if you overseas do have something similar. My pure education time took round about seven years. I am a goldsmith for 36 years right now.
I began as an apprentice, the jeweler then decided to quit, and I had picked up enough I worked on my own with a master jeweler dropping in on a regular basis to observe. I also taught myself watch repair. Made a few mistakes here and there. But practicing often, ring repairs sizing etc . I had a spot in a pawnshop so had alot of scrap to practice on. Best memory of that was I pulled a ring out of the scrap bin, took it and handed it to my boss along with a hammer, and asked him to destroy the ring, which after an hour I repaired it to where you would never know it was ever severely damaged. Not the idea education. But being an infj-a personality and an empath, I always sought education. My only problem being self taught, is I can do pretty much anything, but don't have the degrees or proof of training.
Aaron
I took a one day metalsmithing class at the (now defunct) Bead & Button show in Wisconsin. I then took a couple of introductory classes at Lillstreet Art Center in Chicago. Since then I've been using YouTube videos and one-off courses from various artists. I've been building out a workspace in my garage bit by bit based on the kinds of projects I want to complete - hours of practice and many mistakes has been a great teacher. For paid courses, the Lucy Walker series is good and super affordable (<$40 a class), Rosy Revolver also offers courses around very specific projects of her own design. She only has a few, but they are 50% off right now. I also heard that the International Gem Association was offering a few of their introductory courses for free.
I will likely never stop learning.
I started learning as a kid with my grandpa and then my dad as an adult.
I have taken classes in real time and online classes.
I have watched videos, tutorials, and read magazines, books, and articles.
I try to learn from every source that I can.
I just wanted to jump in and clarify that the Bead and Button Show held yearly in Wisconsin is NOT defunct - merely temporarily paused due to Covid-19 difficulties. It is usually held in June and there were plans to reschedule in August but this was also shelved. Most of my learning has come from taking classes at this show. I am still getting emails from them and I just looked at the website and it shows next year's dates in the upper right hand corner as June 6 -12, 2021.
I think that the show is, in fact, permanently cancelled. I have taught Master Classes for them on three occasions, 2019 being the most recent. Here is a part of an email I received on 7/15.

To Our Beading Family,
It is with a heavy heart that we announce that the Bead&Button Show, initially postponed for 2020, has been cancelled permanently.
For more than 25 years, the Bead&Button brand has served a global audience of passionate, creative jewelry-makers through our bimonthly magazine, catalog of books, and our premier event, the Bead&Button Show. Unfortunately, changes in the DIY jewelry market, coupled with the COVID-19 pandemic's impact on businesses and public events of every kind, have led us to the difficult decision to discontinue all Bead&Button operations.
From the entire staff of Bead&Button magazine, Events Marketing, and our extended Show team at Kalmbach Media, it has been our utmost pleasure to serve you over the years. We thank you for the creativity, passion, and enthusiasm that you brought to the Show that truly inspired us all. We will forever cherish the friendships that were created during this journey.