I've been intersted in Ornamental Turning and Guillcohe Engraving (Enging Turning) since 1995… but have been slowley getting into jewelry over the lasgt couple of years. Posted below is a pict of a recent piece and only the second I have made a setting for. I think I am going to change direction and go for less clutter, depth and cleaner lines but any feedback would be WONDERFUL!
The 'stone' is guilloche' engraved and vitreous enameled sunset. The setting is a combination of fine silver, sterling silver and 22k gold. It depicts a beach at the base with a Pismo Clam, a rock face to the left with a Bat Star (type of Starfish / Sea Star) and climbing up the right side and over the top is Bull Kelp. Obvioulsy, pearls up the neck. Matching Earings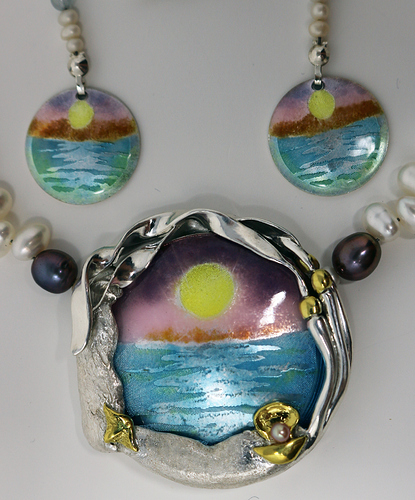 Oh, I am starting off the New Year by selling one of my Rose Engines. Comes with an Oval Chuck w/Double Eccentric, Straight Line Chuck, and about 50 interchangeable rosettes. Asking $19,500k obo. Serious inquiries only, please.