Hey everyone,
I got this crazy idea today : I want to make a custom jewel for the
girl I love ! More precisely, I would like to do something similar
to this :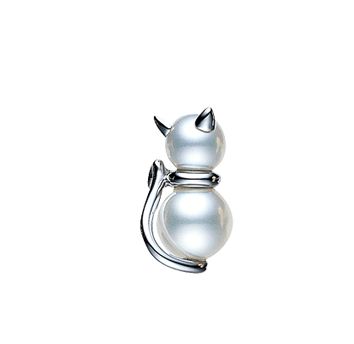 This is essentially a 1.6 cm tall cat made out of two pearls and (in
this case) some silver. I would substitute the silver with white
gold for the tail and ears and pink gold for the ribbon. This is a
brooch, so there's actually a pin behind it.
I need your help getting me started !
I did a lot of research and came to the conclusion that this should
be doable with a minimal investment in equipment, no prior jewellery
making skills and a lot of patience ! I assume the tail, the ribbon
and both ears should be done in 4 different pieces, fixed to the
pearls using epoxy glue. I read about sand casting and this seems to
be the way to go. If I'm right, I'd have to make the pieces using
some sort of plastic and then make a mold of them using a particular
clay. Once done, I'd need to melt the gold using a butane torch and
pour it in the mold. Once solidified, I'd saw the excess of gold and
then sand and polish the pieces using a dremel. The pin would be
done using a bended wire of white gold or silver, soldered in two
points (on the ribbon and tail) or probably glued to the pearls?
I would truly appreciate if you guys could point me into the right
direction as to where I should get all the equipment I'd need
(including the metal). Also, please let me know how you guys would
that brooch, in case my plan isn't right.
Thanks a lot !