Hi everyone, I want to buy a handheld shear to be able to cut sheet metals. Any recommendations? Thank you!
I have always had a hand held pair of shears. Don't skimp on them. You get what you pay for. My go to is a bench shear. It does everything that my hand held will do plus cut very large pieces. Following is a link that may or may not work. If not, go Woodard Fab…Rob
If you don't need to invest in bench shears pick up a set of aviation snips. You want all three, for cutting straight, right-hand, and left-hand curves.
An old dodge is to have a large pair of tin snips and clamp the lower handle in a bench vise so you only have to apply downward pressure. You can really lean into the cut this way, instead of being limited to the force you can get squeezing two handles.
I have three different shears. A curved pair for the right-handed user. A straight pair for the right-handed user. And a Woodard bench shear. Rob is correct. Don't skimp on the shears.
Don
Thank you all!

Rob –
Sounds like maybe you're pretty happy with your Woodward shear. What size do you have?
– alonzo
8". For the price it is great open throat shear. I use it to straight cut large 12X12 pieces of copper and brass sheet. It will also do curved cuts as long as they aren't too sharp. Shapes that I would normally cut out with a piercing saw I knibble out with the bench shear and then finish to shape on an expanding sanding belt wheel or abrasive wheel on my flex shaft. It will also remove excess backing plate after soldering the bezel to it. You need to keep the joints tightened and the cutting edges oiled, at least in my shop, so they don't rust. My guess is that what I am saying is probably true of a lot of open throat bench shears, but they are likely much more expensive. They are also on sale, last I looked, at Woodward Fab…Rob
Thanks, Rob –
It looks like maybe only the 5" shear is on sale but it's a good price with free shipping. Very, very tempting… And, it is the season to be giving…
– l
Don,Are those the aviation shear that Eliot mentioned?
I have a Bessey "airplane snips" (this May or may not be official or company terminology), and I ADORE them. I have serious arthritis and joint instability due to a genetic defect. This means I have some significant deficits in strength, grip, and basically what I can do with my hands. But with these, I can cut through 20g un-annealed silver and copper with minimal effort. It leaves a nice clean edge, and everything to the left of the blade stays nice and flat. My dad told me these are what the fabricators in NASCAR use and I tend to believe him as he's worked in that industry and done the job. They're solid as anything, nice springy action, and latch shut for storage. They're large in my rather small hands, but on thicker or tougher stock the leverage of those long handles is very helpful.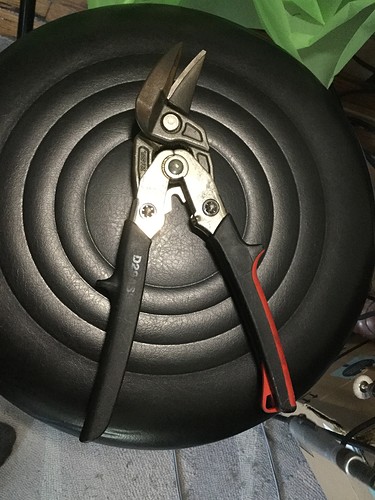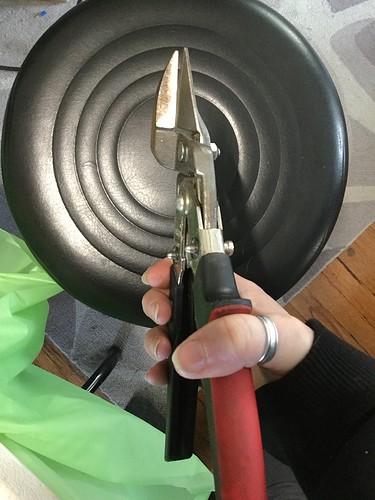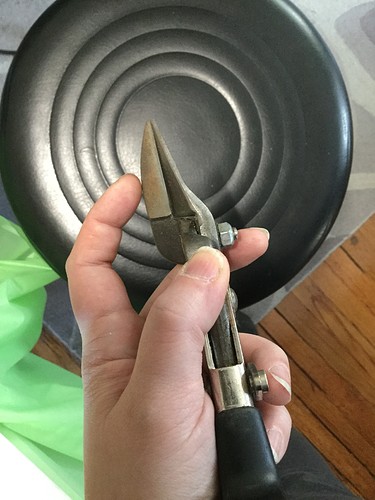 The code on the handle looks like D29AS… The next character may be another S, and I don't know if there was anything beyond that but it should be enough to get you on the right track. IME anything by Bessey is top of the line. I love their clamps too.
thanks! ordered one for myself and on it's way!
Judy
Awesome!Thank you so much!
I have an old pair of straight aviation shears that I think our dad used when he worked on P38s during WWII. I dug them out to see if they still cut, they do kind of, but are really beaten up.
Oh wow, that's cool to have even as just a display piece!
Yay! I'm sure you'll be very happy together.
i use the aviation shears type, from Rio, works great.
Hello Arch,
You asked for recommendations for a handheld shear to cut sheet metal. My favorite for short cuts is the Joyce Chen kitchen scissor - VERY sharp and sturdy. They are intended to cut chicken bones! Many years ago some one on Orchid recommended them. I have cut through 22 ga sterling, which is a form of abuse. Don't do that - sawing is better suited for heavier gauges. I bought mine at a kitchen supply shop and have seen them on Amazon.
Don't bother with the knock-offs, get the Joyce Chen.
Now if you want to make long straight cuts, look for a heavy duty paper cutter. Most likely found in an office supply…or if you're lucky, salvaged from a school. Mine is really old (50 years+) but built well. It's heavy!
Judy in Kansas, who is sad to see so many rural schools closed and remembers starting school in a one room, eight grade, country schoolhouse.