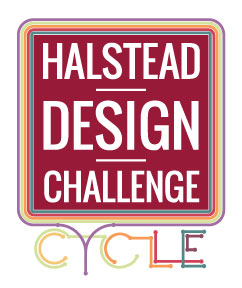 Halstead Design Challenge kits available next week!
Design kits go on sale Tuesday, October 16th at 9:00 a.m. Pacific Time! Only 200 available!
What's old is new again. Karma. Rebirth. Revival.
Any which way you want to look at the topic of CYCLE, explore the 2019 Halstead Design Challenge theme by playing with your ideas on continuity, loops or lifecycles! 2019 is a special year for SNAG as the organization celebrates its 50th anniversary. Such occasions are a time for reflection on the past and the future.
The 2019 Halstead Design Challenge asks you to create a neckpiece or pendant constructed primarily from materials in the Challenge Kit. A juried selection from all entries will be exhibited during the SNAG conference in Chicago in May 2019. Proceeds from kit fees directly benefit SNAG. Prizes for the top three winners and runners-up.
Receive a 50-piece kit of sterling silver, copper, and brass supplies to get you started. Your kit includes sheet metal, chain segments, wire, metal blanks, and beads.
Only 200 Halstead Challenge kits are available. Get ready to get your hands on one on Tuesday before they are gone! Kit price/entry fee is $43.50 (or $83.50 to locations outside the USA).
Previous winners: