An accurate way to cut ring stock is to use jewelers saw and a tubing
cutting jig. You can set the length for the size of ring that you want
and do repetitive cuts. Rio Grand has them on page 204 of the current
catalog.
The ends will be square but not perfectly smooth. If you are looking
for the best joint you will want to file the end after cutting. To do
this easily, I have made a jig from a bench pin and 18 gauge brass
sheet.
A drawing with instructions has been posted on the ftp site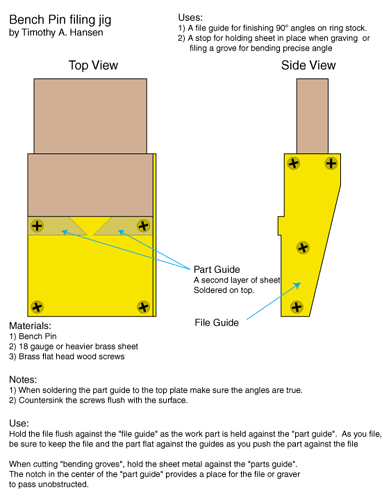 Thank you for this wonderful service.
Timothy A. Hansen
TAH Handcrafted Jewelry
P.M.B. 131, 305 N. Second Ave.
Upland, California 91786-6028
U.S.A.
E-Mail: @Timothy_A_Hansen
Web-Site: www.home.earthlink.net/~tahhandcraft