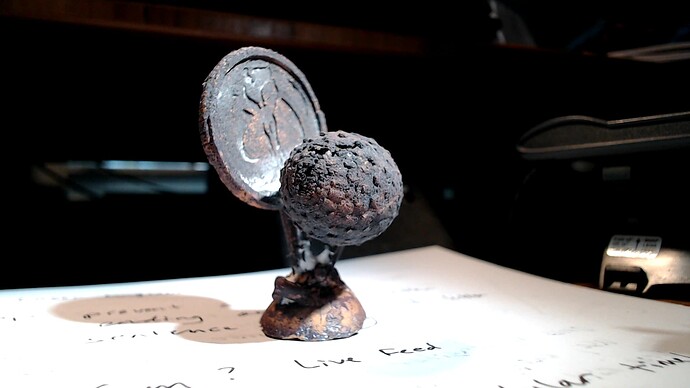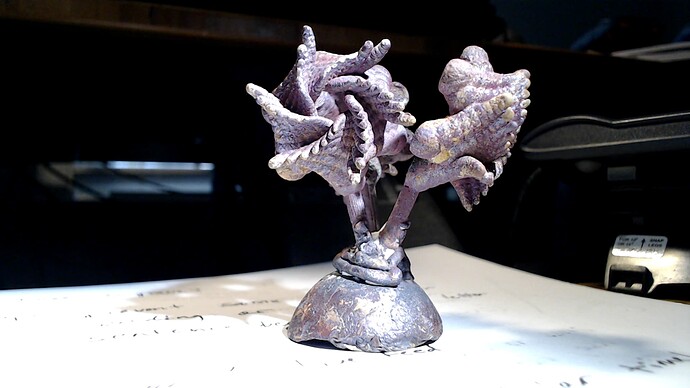 Rio's Ancient Bronze casting grain.
This was done on a MasterCast vacuum investment machine with perforated flasks.
Flask temp was 1250 F.
Melt temp in Electric Melting Furnace (graphite crucible) was 1931 F. Brand new crucible. No flux was used, and the metal flowed cleanly (no residue left in crucible).
However, when I peeked in before pouring, the metal was boiling and spitting. Rio recommends (in a thread on here) 2000 F for Ancient Bronze, so I was below that (though the pyrometer on the furnace might not be accurate).
Flask was pulled from oven and placed on vacuum caster immediately before pouring, and the vacuum was switched on a few seconds before pouring.
For the first piece, Coin and Egg, the flask was smaller (2 1/2" x 3 1/2"). We left it sucking on the vacuum for a while… maybe a minute. After that, we waited until the glow on the button was quite faint before plunging in water.
For the second piece (Spirals), the flask was larger (3 3/8" x 4"), and we vacuumed for a shorter time, and then plunged while the button glow was still pretty bright. The firescale seemed thinner on the second piece.
The scale is thick enough on the Coin and Egg that the surface is visibly pitted after removing the investment with ultrasound. I'm imagining that when we go to polish it, the results are going to be disappointing. I've actually seen LESS firescale when casting pure copper in the past. But that was with a centrifuge. This is my first time using a vacuum caster.
Are we missing something here? Would vacuuming way less produce even less fire scale?
Has anyone ever cast Rio's Ancient Bronze and gotten scale-free results?