I've been making jewelry and doing other metalsmithing over the past five years. When I started, I was just playing around; I had no idea it would lead to me doing as much as I am now. I didn't know it would lead to me equipping a studio of my own. But that's where I am.
In my first career, I was a software developer, and spent many years at various Silicon Valley startups.
As a fairly new jeweler/metalsmith/artist, it's difficult enough putting up my work for public view, especially when you have people like Jim Grahl, and so many others here whose work is simply stunning both aesthetically and technically. But Jim personally encouraged me to do this. So I will.
I'll start with some of my early pieces, and add to those in subsequent posts.
This is a copper and silver concho hatband I made for my wife around April 2012. One of the first things I found exciting was texturing metal, and I used my regular tool chest ball-peen to form the copper backs. For the sterling hearts, I figured out a way to do some simple casting – I hand-shaped hearts from paraffin, set them in plaster of Paris to create a mold; I melted out the wax, filled the form with casting grain, and used my plumber's blowtorch to melt the metal. The one thing I'd definitely do differently now (because I didn't have the equipment or knowledge then) is hard solder the hearts to the backs. These are soft soldered – lead-free solder, of course, but still soft.
The conchos: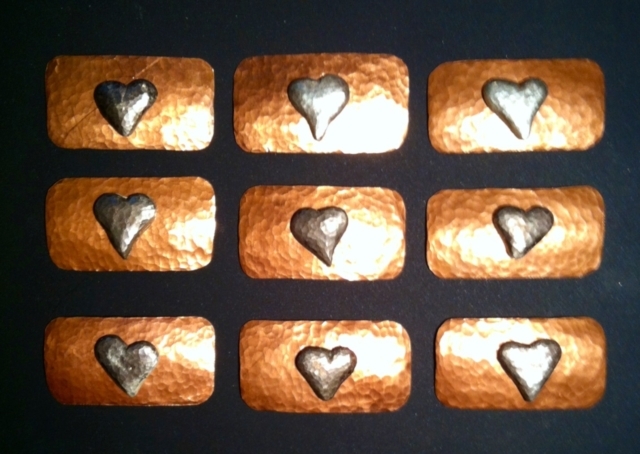 The hatband (using traditional brain-tanned deerskin):


And the hat: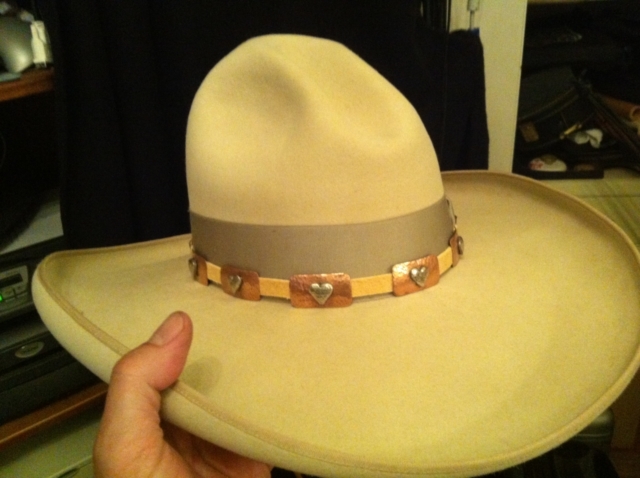 More later. Thanks again for the encouragement Jim.
-Alec