The folks at Dikra Gems have been long time supporters/sponsors of Ganoksin and we are pleased to congratulate them on their 30th year in business!
They are having a 20% off sale to celebrate!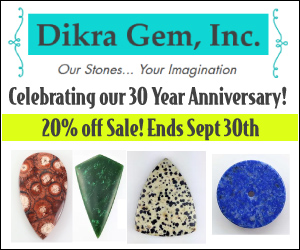 About Dikra Gem: The familiar to the unusual; calibrated to freeform. We offer you faceted stones, cabochons, strands of pearls, individual pearls, drusies (natural, dyed or plated), 1/2 drilled drops, tongues, bullets, pendants, and "designer" SBBT's & cabochons. We strive to acquire interesting rough, cut it well and offer the finished stones at competitive prices.