Hey guys.
Based on grains specifications & casting assumptions I have collected online and on the forum, I have made a chart over temps I wanna try out to begin casting with… Would like to know if anyone has any comment on these… I am still fairly new and wanna see my castings less & less porosity each time…
I am vacuum casting myself, so feel i have upped the temps a notch to match the temp loss… Everything is in celcius for my own convenience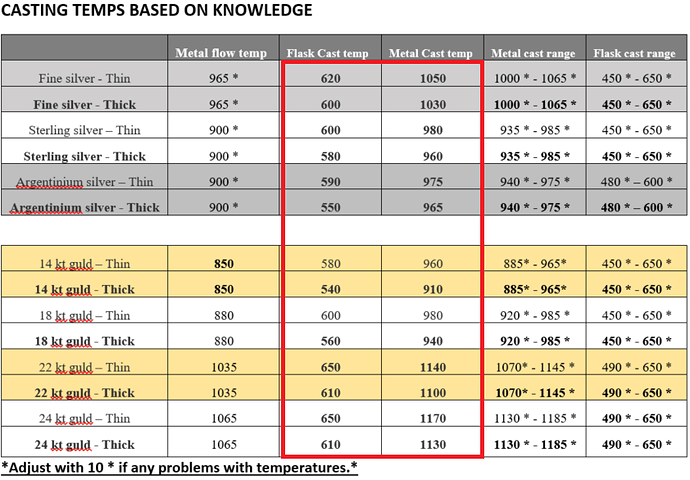 I have based these temps on following assumptions:
YOU SHOULD CAST AT 40 ° ABOVE THE FLOW POINT
VACUUM FLASKS SHOULD BE 25 °F TO 40 °F HOTTER THAN CENTRIFUGAL
THE MOLD SHOULD BE 430 ° TO 540 ° BELOW THE MELTING POINT OF THE METAL AT THE TIME OF CASTING.
LARGE PLAIN PIECES REQUIRE A LOWER FLASK TEMPERATURE OF 425 ° TO 510
FINE DETAIL OR FILIGREE REQUIRE HIGHER FLASK TEMPERATURES OF 480 °F TO 620 °F.
THE FLASK WILL COOL APPROXIMATELY 40 ° PER MINUTE AFTER REMOVAL FROM THE OVEN.
ALWAYS USE AT LEAST 50% TO 75% NEW ALLOY.
How do you think my starting point looks ? I seperated into Fine/Thin detailed pieces & thick pieces.
I am vacuum casting myself, and mainly interested in 14 karat & sterling silver castings
Of course sucess of my casting depends on more variables such as investment, sprueing, size, burnout etc, and I will keep a log on how sucessfull my future castings will be.
Best regards William