Hello Orchid. We'd like to thank @Carrera_Casting for becoming a Platinum Supporter of Ganoksin and joining our community!

Rooted in the same building since 1975, Carrera Casting is one of the most accomplished jewelry manufacturers in the world with over 40 different metal alloys to cast from.
For the last four decades our customers and employees have promoted our growth, in addition to establishing our reputation for always producing high quality castings. We have been, and always will be a "contract jewelry caster". That means, the styles that we cast are the exclusive property of our customers, and that we have no line of our own. Whether it is your jewelry CAD File, Wax Model or Rubber Mold we certify that those are your property.

[In picture above, owner, Joel Weiss is all smiles in the Carrera Factory]
To maintain our leadership role in the industry, we keep our facility modernized with the latest in Casting and 3D Technology. Partnering with mega stars like Solidscape and Etsy helped bridge our network from old industry standards to the young leaders in our community today. Schools from all over, such as FIT and GIA, frequently tour our mid-town (NYC) facility. With our state of the art manufacturing capabilities and astounding CAD department we are able to produce customized products that meet our customer's specific needs. Check out some of our tutorials here.
It is this combination of experience, passion, and integrity that has made Carrera #1 for jewelry manufacturing.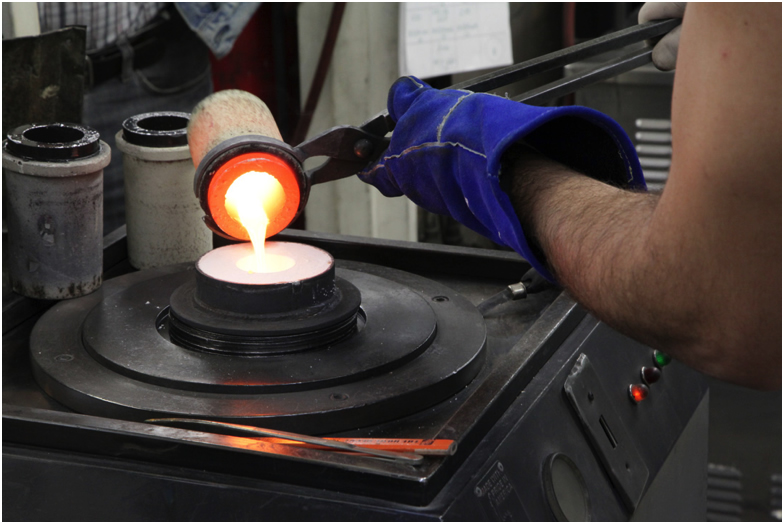 [Long time Casting Manager, Robert, pouring liquid gold into a flask.]
Carrera Casting is one of the most accomplished jewelry manufacturers in the world with more than 40 different gold metal alloys alone and dozens of other custom alloys in platinum and other precious metals as the leader in custom casting services.
At Carrera we offer the widest variety of colors and alloys that are all available and ready to be cast every day. So whether you're looking for something bridal like White Gold, romantic like Pink Gold, festive as our Green Gold, subtle as Brown Gold, or simply as timeless as Yellow Gold; chances are we have whatever metal alloy you need for your special project.
Our R & D department is always working on developing new alloys that have the properties and colors to suit our ever changing jewelry industry for gold, silver, platinum, and palladium casting.
Over the years we have developed dozens of custom alloys working in conjunction with several high-end designers, making us the leader in contract casting services.