Does anyone know a good limit for the weight of brooches? I'd hate to make a beautiful boat anchor.
It will depend on the fabric it would be placed on by the wearer. Light is great if it is a flimsy weight fabric like chiffon. But if it is a heavier studier fabric say like denim or wool, a heavier weight brooch would be ideal. There is no one size fits all. I wouldn't make it several ounces in weight no matter the usage unless it is intended to be the holding brooch for a shawl.
Aggie
Bill,.
I think size may be as critical as weight.
Don Meixner
Many women will wear a heavier broach by pinning it through their bra strap.
Hello again Bill,
This is s typical sterling pin from my craft shop. There is still some finishing work to do but nothing that will add any weight except the pin stem. The over all length is a bit shy of 4" and it weighs 13.4 grams. Each piece of the dragon is cut and fit from stock and the head is file carved from a puddle of sterling. Weight is always a concern with me so I try to keep brooches light and let the appearance give the impression of weight.
This guy will find a home on a kilt in some pipe band. The end use will help determine the size and weight of the piece.
Don Meixner
Nice work Don, and thanks for the input. Love seeing people do work that isn't of the standard fare. I like doing interactive pieces, so when you've got moving parts the weight can really add up. Pays to design it properly before taking to the bench!
It's as much about balance and engineering as it is about weight.
If horizontal, be sure that the pin stem, joint and catch are at least two
thirds if not three quarters of the way towards the top.
Otherwise the top will want to flip over. If it's a heavy piece a vertical
pin stem, joint and catch may be better. Also if it is a heavy pin a double
pin stem may be needed.
Years ago I bought a magnetic adapter for that slipped over the pin stem
so that one could put a pin on a fine piece of fabric without piercing it.
I can't seem to find one online but I know they are out there.
Have fun and make lots of jewelry.
-Jo Haemer
www.timothywgreen.com
The "power suit" can carry a heavier brooch. A wonderful book for brooch inspiration is "Read My Pins: Stories from a Diplomat's Jewel Box" by Madeleine Albright. Some of her brooches appear to be fairly heavy. I love to make and wear brooches but since more women prefer pendants, I try to make them to be worn either way as in this brooch/pendant. At 27 grams it may push the weight limit. The confetti agate heart measures 35 mm x 60 mm. I enjoy imagining it gracing the shoulder of a powerful woman.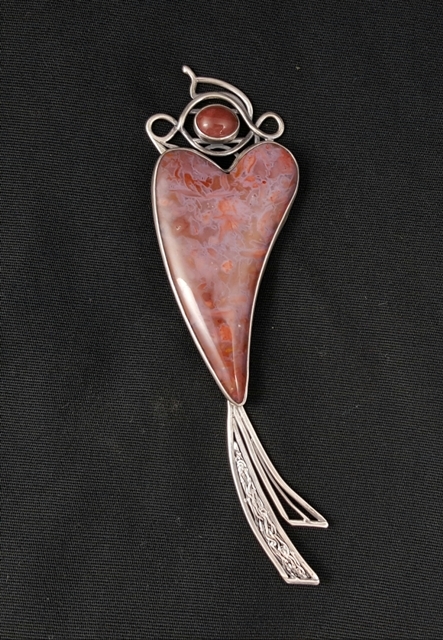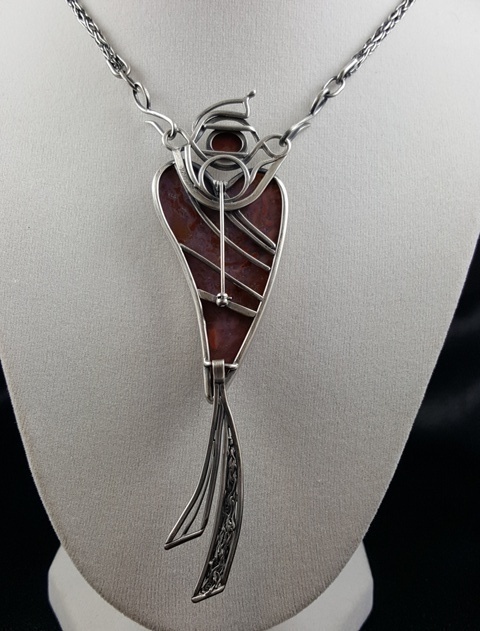 Very nice Janice!
I am constantly battling the concern of how big is too big with pins and pendants. How long should the pin stems be and what size is strong enough? After a lot of years this shouldn't be a concern I suppose but it is.
I don't work with many stones so that weight is not something I am not often worried about. I like the hook and eye solution to the chain as well. I have done that myself with good success.
Very nice.
Don Meixner
try it on and wear it…depends on the weight of the fabric you are
pinning it on…wool coat, silk blouse?
I really love making brooches and have made quite a few. Mine can sometimes be a bit heavy. One thing that I've learned is that any pin or brooch with any weight at all, really, nay not sell well in warmer climes where people don't wear heavy fabrics or much outerwear….
Thank you Don, for your compliment. On every piece of jewelry, there is good reason for concern about size, weight, strength, and function. No matter what our taste is in size, weight, or style, no one likes a jewelry malfunction. Brooches are a special challenge.
Janice