Dear community,
I recently bought an antique silver, garnet and pearl pendant,
described as Austro-Hungarian from ca. 1900.
I need a chain for it and would like it to be as authentic to
that era's style as possible. I am considering silver, garnet beads
or
pearls. The garnet bezels appeared to have been gilded but are quite
faded now, so yellow gold- color probably would not work. It is also
quite large (3 5/8 inches or 9 cm) therefore I would prefer a choker.

The top center drop was missing and I replaced it with a drop
what seemed to match the style and esthetically pleasing to me (now I
only have to wait for the patina to form). If you have other or more
authentic suggestions please let me know. I also replaced the pearls
of the drops, the original ones were of poor quality ( eg. double
drill holes, does not show well on the image). And finally, I don't
think the center stone is a garnet, more details on request.
The images (original, altered) can be seen at: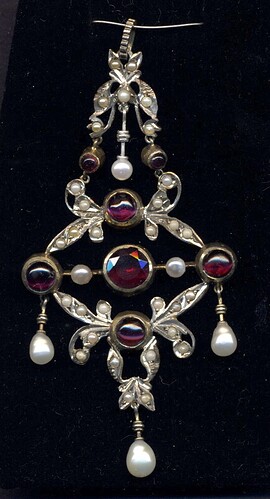 [For 'Antique Roadshow' viewers: I did not polish, file or alter the
piece in any way, except exchanging 3 pearls, which can be easily
reversed. ]
If anyone of you has some insight I'd be very grateful.
Isabella