I would like to pass along a tip for adding another vise if you are
cramped for space in your shop.
I recently took a class with Betty Helen Longhi and she taught us to
use a piece of soft pine 2x4 about 8" long held in a vise to form a
dimensional shape using a hammer. I had a vise in my shop that was
anchored to my workbench but it was too high to use in this way
unless I stood on a stool.
My son who is a motorcycle lover suggested to me to get a motorcycle
stand for the second vise. The stand is used to mount a motorcycle
to it so it can be elevated to work on it. This was a perfect
solution for me as the vise mounted right to it and I can keep it in
a closet and just roll it out when I need to use the vise and then
collapse the stand and roll it back into the closet when I am
finished and it doesn't take up valuable space in my shop. The
wheels can be locked so it doesn't roll when using the vise.
The name of the stand is Pit Posse and I found it on Amazon. I have
no affiliation with the maker but just wanted to pass this along.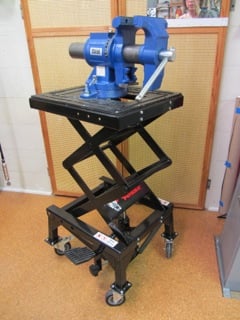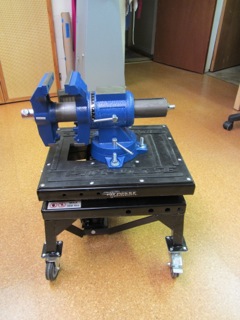 Regards to all,
Lona
[Edit]
Sharing files and pictures with Orchid is easy - Simply attach them
to your Orchid post.
[/Edit]