Would you spend $716.99 to have the best season ever?
What does it take to have a great Christmas season?
Traffic
Merchandise
and
POWERFUL SALES PEOPLE!
Every sales person when they drive to work at your store every morning listens to the same radio station:
WIIFM
What's
In
It
For
Me
Here is just a suggested list of items to go buy this weekend (you choose) and put these up in the back lunch room of your store, out of site of customers.
Put signs on the items for:
TV $597.99 Highest dollar sale made
Keurig Coffee Pot $60.00 Most items listed on an invoice
$50 Amazon Gift Card Highest shop sale
Then keep a board with running total as shown so everyone can see the "SCORE"!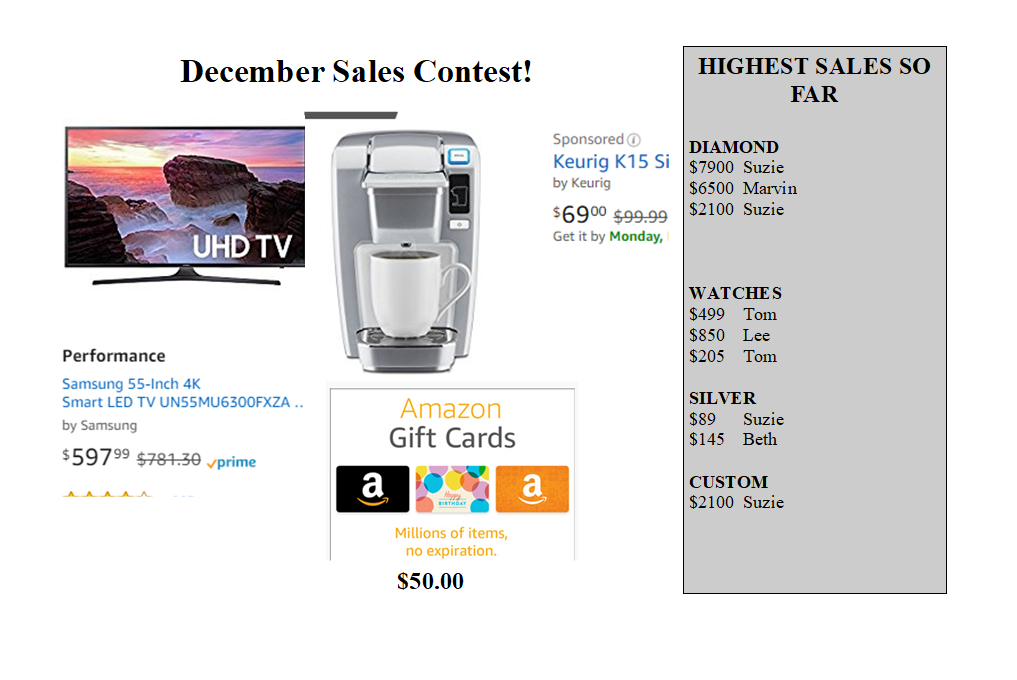 I suggested this to a store a few years ago and they bought a LARGE T.V. and back then it was $1000, today its $600.
It was simple, their contest was Highest Total Sales for December.
They had the best Christmas season they had ever had.
You decide on the contest rules, what they'd win. It could be even more items. Maybe you'd have A, B and C categories and let staff win WEEKLY in addition to total sales contest. Each category could have choices of prices
i.e.
a. A free paid day off during teh year
b. Mani-Pedi
c. Massage
d. Dinner for 2 at Italian Restauant
Ask the staff what prizes. Get all excited!
Reward good behavior - which is to SELL STUFF