Sculpturings Wins the 8th Annual Halstead Grant for Silver Jewelry
Entrepreneurs
Sculpturings artist Rebecca Rose is the winner of this year's
Halstead Grant for design excellence and business strategy acumen in
the silver jewelry market.
Davenport, FL - - Halstead is proud to announce that Sculpturings
entrepreneur Rebecca Rose of Davenport, FL is the winner of the 8th
annual Halstead Grant competition for new silver jewelry designers.
She will receive $5,000 in cash and $1,000 in jewelry supplies in
addition to other prize package benefits.
"Upon hearing the news, to say chills ran up and down my body is an
understatement. It was in that very moment I realized the Halstead
Grant will flip the switch from sketches into pieces, from dreams
into realities," said Rose.
Rose studied metalsmithing at Northern Arizona University but
pursued another career in the arts after graduating. She recently
returned to the jewelry studio to launch her line of Sculpturings.
The cast rings are sculpted from found object components and
original elements to interpret social issues or current events.
Creations are named by pairing relevant words with the word "ring,"
usually as a suffix. An example is her piece entitled "Acquiring"
which depicts American materialism and the credit crisis.
Each ring is a large statement piece that can be worn as jewelry or
displayed as art. Rose releases some as unique pieces, and some as
limited editions available in sterling silver or bronze. Silver
rings are currently limited to runs of ten pieces and are sold with
cloche display cases and certificates of authenticity for
collectors. Sterling prices range from $500 - $1,200. Bronze rings
are limited to 50 per design and cost $150 each. Rings are sold
online as well as through retailers on both coasts.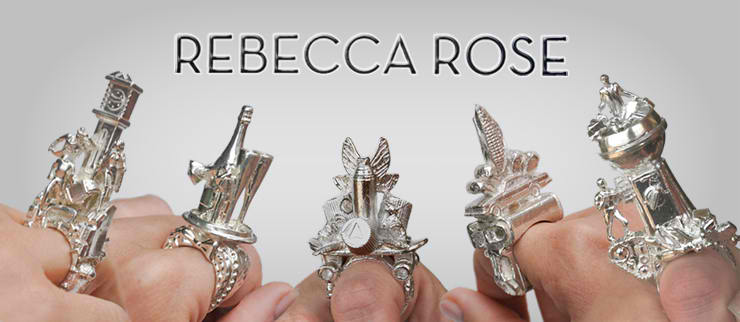 Stores or galleries interested in carrying Sculpturings should
contact Rose through her website contact form for wholesale
"Rebecca's collection has that rare wow factor. It is incredibly
unique. Her cohesive body of work and strategy bridge the gap
between art sculptures and wearable accessories," commented Halstead
Grant coordinator Hilary Scott.
The Halstead Grant competition recognizes jewelry artists who excel
in both design and business preparation. Applicants are required to
submit a portfolio and elements of a business plan including
marketing, production capacity and financial planning
The program is designed to encourage sound professional practices in
the jewelry arts community. The application process guides
candidates through several critical business issues. Analyzing those
challenges helps new jewelers lay the groundwork to become
successful, independent studio owners.
The grant sponsor, Halstead, provides wholesale jewelry supplies to
artists around the globe. The company celebrated its 40th
anniversary earlier this year. Halstead is a trusted industry source
for chain, findings, metals and tools.
Additional Contact:
Rebecca Rose