The Allesee Metals/Jewelry Design Program, and the Student Metals
Guild, at Kendall College of Art and Design is proud to host a
series of events with Alan Revere between November 10th and 12th,
2006. Kendall College of Art and Design is located in Grand Rapids,
Michigan.
Mr Revere will be the keynote speaker, and will participate in a
panel discussion, during our annual career day event for
Metals/Jewelry Design Majors on November 10th.
The evening of November 10th, at 6PM, he will deliver a public
lecture on the work of the American Jewelry Design Council.
Saturday the 11th and Sunday the 12th he will be leading a Design
Workshop at Kendall, open to Kendall students, and members of the
community on a first-come-first-served reservation basis.
Some details of the lecture:
November 10th, 2006
Each year the American Jewelry Design Council chooses a design theme
for which members create one-of-a-kind pieces. The projects are for
exhibition, only and they are not for sale. The projects are meant
to stimulate both the artist and the viewer to think beyond common
limits and elevate jewelry expression to the realm of fine art. The
results are spectacular, with members employing the finest
craftsmanship and materials, as a painter would work from his
palette. No other association of designers comes together and invests
so much for an annual challenge like the AJDC's design project.
Some details for the workshop:
November 11th and 12th, 2006
The most requested traveling Revere workshop, this flexible hands-on
seminar proceeds from the concept that ideas for jewelry come from
an unlimited variety of stimuli in two specific realms. Original
ideas spring from these two limitless resources: interpretation of
internal visualization and abstraction of external images. Lead by
the instructor, participants generate new and original concepts for
jewelry design using such materials as clay, foil and paper. Two
projects are presented per day, each opening the door to myriad
possibilities to explore and systematically develop. Instruction and
discussion stress the theory and process of design as participants
learn to develop original models and sketches. Participants learn
Revere's systematic approach for expanding and refining original
concepts. The method, which is a combination of traditional European
approaches, American innovation and Revere's own insights, has
enabled him to earn national and international jewelry design awards
over the past three decades.
The poster for the event is here: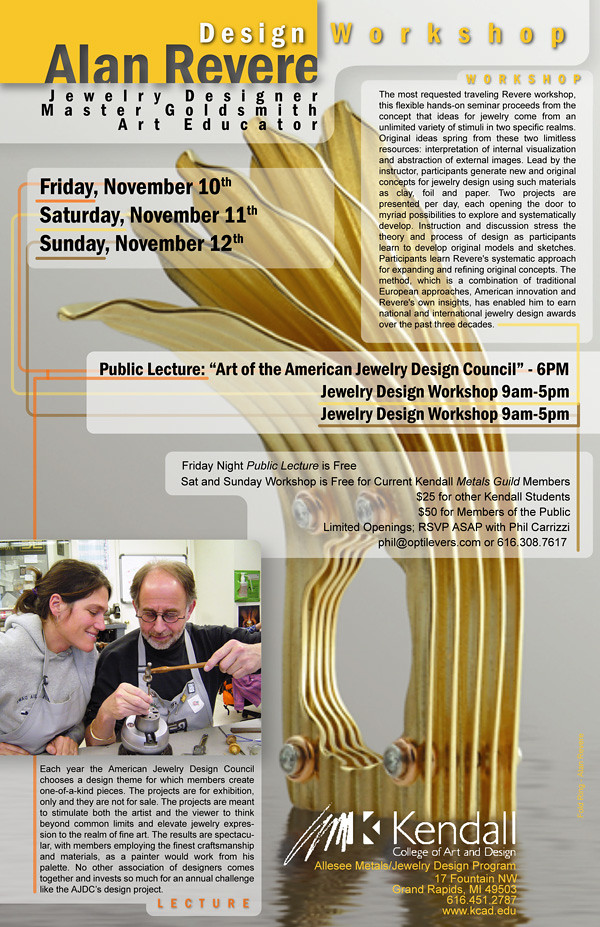 Kendall College of Art and Design is located at:
17 Fountain NW
Grand Rapids, MI
49053
616.451.2787
If you are interested in the workshop, RSVP ASAP to Phil Carrizzi at
phiL@optilevers.com or call 616.308.7617 with questions etc.
Thank you for your time, and I am sorry for the short notice.
Phil