Hi everyone!
I wanted to share a picture of the new worktable I just assembled.
It is only sawhorses and plywood but it is really sturdy (28 screws
per sawhorse set; legs and cross pieces are 2"x4" fir, plywood is.75"
thick and is 4'x5' x 36" tall and it has a piece of hardy backer
board so I can use it for any flame work.
I will be 63 this summer, and I put this together myself - my
husband helped me move the heavy piece of plywood, but the rest was
my work. I am VERY happy with it; it sits in the middle of the garage
and I can access it from all 4 sides. I can't afford a real bench, so
I have been making do with tables that just weren't the correct
height. But, this new table is just wonderful.
I haven't done any ftp for a while, I hope I didn't upload the
entire contents of my C: drive.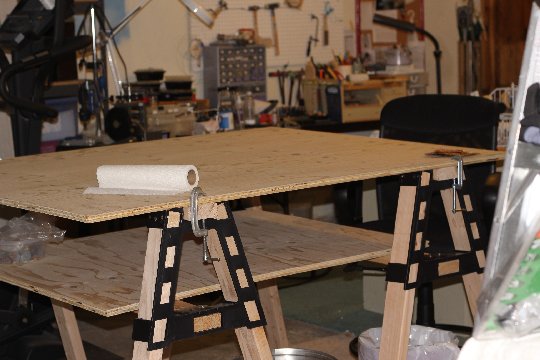 Regards
Sandra in Snohomish where it is winter again (we may yet get snow)
www.JulyCreek.com