Last week my bakers grand-daughter asked me to resize a ring for her, as her Grand-Mom died last month. It was fitting to have me assist her in doing this 'good deed'!
Upon viewing this great looking ring, I noticed some interesting features of it. It was made in Russia in the 1975 era, but more so it had my favourite setting technique…the great looking, "Fish-Tail" setting process.
Apart from this, were many "Assay Office" markings that were done of the outside of the shank…interesting!
I had to have this ring re-sized as it was given to the owners' grand-daughter yesterday. The grandmother recently passed away and this was a gift to the 'next generation'.
I noted some unusual gold stampings on the 'outside' of the ring. Under closer examination, I discovered the country of origin and this is what I found.
The Diamond Setting was done using the 'Fish-Tail' method. Interesting, as I just recently finished posting an essay just on this topic.
From what I heard, this ring was made in 1975 in a little town in Russia and was all hand made. This was long before (CAD) aka 'Computer Aided Designing' came into being.
When I saw this ring after being cleaned, I just had to capture it for the readers on my 'blog'…:>)
The craftsmanship is just superb!
Remembering, that this ring was hand-made, (it also appears not to have been worn too often!)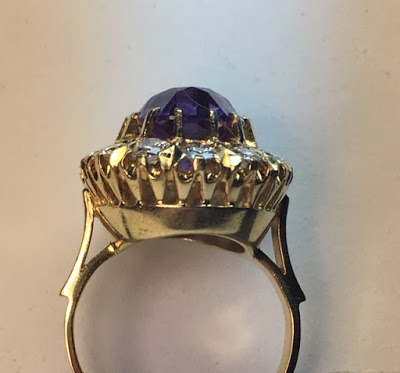 The manufacturer never stamps his own trademarks or even the karat stamp. He has to give that ring to a "Government Assay Office", (off-site) for them to do the correct determination of the quality of the ring. This practice is quite common even in England/UK.
On this series of stampings are the actual "750" (18kt) , the year it was made, (this logo changes every year for the assays office), country of origin, plus the inspectors' / officer's code number.
You'll notice that these notifications are stamped on the outside of the shank, I believe this was for easier identification. The "Hammer and Cythe" is the country logo of Russia.
Here are some more "identification" stampings!
Here you can see that the Diamond Setter used a "Fish-Tail" style of setting . .(this is my favourite setting style).
I'm glad you learned to appreciate this high quality of workmanship from another country. In fact, this printed essay will now be given to the new owner of this delightful looking ring.