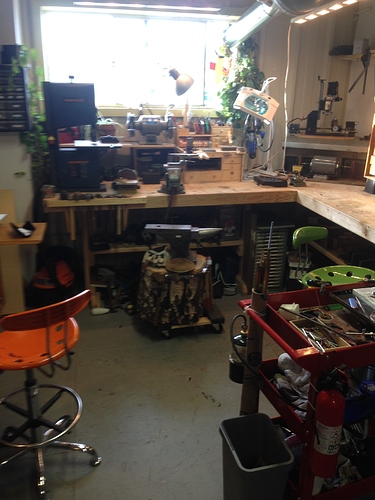 Greetings All,
I realize the contest is over but I've really enjoyed everyone else's postings and since I'm new here I thought I'd say hello and post a few pics of my own slightly organized chaos.
The app would only allow me to post one image as a new user so you'll have to use your imagination for parts of it. The desk is to the left and assembly/fabrication to the right of the photo.
I'm recently returned to producing art directly with my own hands. Much of my professional career has been in performing arts architecture (theaters, concert halls etc) and producing events, festivals, arts organizations, and theater productions. Those projects tend to use two tools, a laptop and a mobile phone.
Coming back to my roots as a studio artist, I'm having a ball in the new studio I share with my wife. I'm doing small scale sculpture, jewelry and a renewing my love of metalsmithing and talking to stones while she focusses on warm and stained glass.
To the left of the picture is where most of it begins, the desk. Here is where I write, sketch and generally dream up new ways to get myself in trouble. It's also where the ever important contract is written for commissions which is the bulk of my work. After many years in large scale commercial architecture I've found contract writing to be a tremendously generative activity and I very much see it as an aspect of the creative process.
There's also the ever present gaiwan which currently has a Spring harvest Nanjing Rainflower green in it but is usually stocked with sheng puerh. I'm a bit of a tea lover, something I picked up living in China for a time working on projects.
Above my desk are shelves for projects in process, repairs and various bits I like to have close by. The materials talk to me, stones, metal, wood, all of it. I do my best to listen and see how I can help it all come together in a way that embodies the greatest beauty and truth.
The picture shows primarily the big tools side of things. Band saw, grinder, tumbler, rotary shear, rolling mill, hammers, stakes, disc sander and the portable jewelers desk so many of us seem to have. At one point that little desk was the entirety of my studio! in front on the floor is the one tool that started it all, the anvil I inherited from my grandfather. I have it mounted on a stump and furniture dolly so I can move it out of the way. This is only one end of the studio, but it's still small enough to require a little tool tetris.
Moving to the right is a dual buffer in the corner with a little Sherline lathe/mill on top for storage. It's a terrifically versatile tool and I find myself using it for some aspect of nearly every project lately.
Over a bit more is my small fabrication/assembly area in front of the tool chest. This area is where most of the materials live such as cabs, crystals, metal stock, found objects, wood etc. as well as fuel canisters and oxygen generator for the torches.
Finally to the right of that is my soldering/annealing station which is really a metal cart on wheels for the inevitable moving about that happens in a small space. On the cart are an annealing torch, fire bricks, little torch with Paige tips, butane soldering torch, clamps, fire extinguisher, ultra sonic cleaner, wax heater, pickle pot and a host of other random items that fit there and seem to get used together.
Thanks for joining the tour and give a shout if you're in the Boulder area. I'm happy to connect and make tea.