I would like one or several of you talented people to tell me how to
complete this bezel. I've made several with no instructions and it's
obvious.
Information:
Bezel picture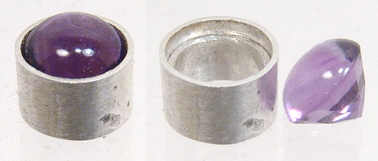 The outer band is fine silver bezel wire .013 thick.
The inside band is sterling silver .019 thick. I was hopeing the
silver would help the fine silver bezel wire hold up under what ever
I might put it thru. I was also thinking the fine silver would be
easy to push over. I know I need to thin the outer bezel. Just was
wondering the best way to do this without knowing what I'm doing.
I eventually want to make 18 or 22 karart gold bezel like this but
wanted to practice with silver first.
Any help would be appreciated.
Again thanks for the help finding Dar, he's a jewel.
Linda Chandler
@Linda_L_Chandler