Selling watch repairs is like selling internal surgery, you can't show the customer whats going to occur inside.
But if you have some old watches or can get your watchmaker to help this will surely increase watch repair SALES, profits and closing ratios.
If you're good with watches buy SIX broken watches
Two mechanical wind
Two self winding
Two battery operated
Take a part one of each (like picture), buy a large picture frame and a piece of foam. Take off bands.
Place on top of the foam an OPEN BACK mechanical watch and below it separate out ALL of the parts of the watch so everyone can see all of the parts with the assembled watch above it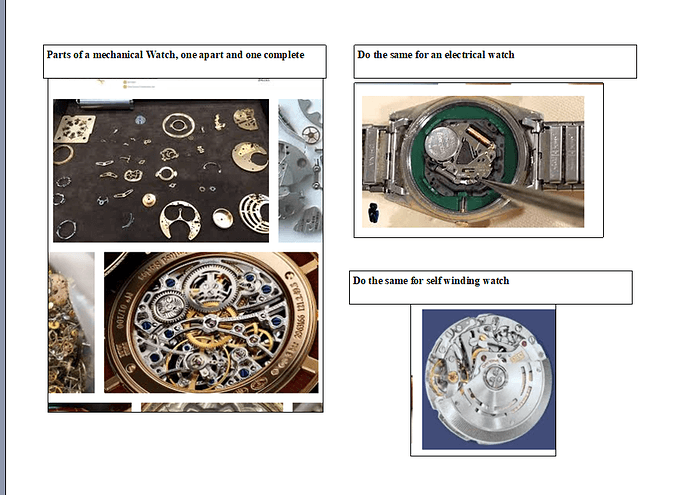 If enough room do the same in the middle for an auto wind watch and on the "3rd column" do the same with battery one. If frame is not big enough buy 3 frames.
Press into foam and put glass frame over it.
Now you have something to TRAIN the staff with and the staff can use it for watch intake, presentations and such with customers.
Train the staff how to show the customer what potential problems and teach them typically what breaks.
Teach them if a customer says "why so much?" you can show them that the watch maker has to almost take apart 50+ pieces just to see whats the problem, clean all of the parts and put them back together again.
"Can you imagine taking apart your blender at home to give an estimate to fix each everyone?"
I'd use my price book with watch repair quotes JUST to give customers a RANGE of what the repair could be. This will make the staff feel and act confident and you'll get higher closing ratyios for estimates.
"This could be between $135 and $225 dollars, if more than that we'll call, shall we proceed and give this to the watchmaker?"
This alone will save the store and watchmaker grief of calling and waiting for "OK'd" watch repair estimates.
If you or your watchmaker can do this it will help a great deal.
Now you know what to do with all of the broken watches you've accumulated over the years (or go to eBay).
David Geller