In May30th, 2013, I earned a certificate and a place in the annals of the "Guinness's" history books! Nothing like 'leaving this world' with a legacy of this nature, so how did this start & how was it actually created?
Let me start off with the history; a friend of mine gave a simple plastic poker-chip in Tuscon & told me to have fun with it!
Well, I did in a sort of way, I put it in my office for a year or two, then this story starts to unravel. I took it to my setting bench & looked at it, put it down numerous times & looked at it again the last time & then decided it needs something else. Such as a few diamonds on the edge, how about .10 pt.s in size, okay, now how about the center section. I thought of putting a number 7 as everyone likes a 7 in the casino's! But now adding a few more diamonds in it, maybe 49 to fill it up & for the folks in the Far East a number 8 meaning (health, wealth & prosperity). The total gold weight came to 136 grams, in Pink 22kt gold!
Now comes some extra diamonds all over, I like Pink Diamonds which are expensive, my designs went overboard!!! On the edge those stones were too darn small, let's go fully into nice 17, V V S1, E-F colour of 1.00+ carat stones & this made the poker-chip even thicker to accommodate the bigger stones!
A friend of mine said why not contact "Guinness World Record" in London, England. I did & they never had any category for this item, but show us a photograph & a few details! The rest is history! How long did this project take with all of the multiple revisions every few weeks?? The time spent, about 3 years from the plastic poker-chip, to the finished item.
Many times I ignored it & left it on my bench, as I had setting to do for my clients. Once I got the award I dismantled all the diamonds & the gold was returned to my suppliers. So now I have a silver, demo-piece, as I show this item to my students, this alone weighs 73 grams & is only 6.50 mm's wide…Here are the photographs showing you how it looks. The #7 has 49 stones, the #8 has 65 stones all of 1.30 mm's!
. I never sold any of the original, but it sure looks nice,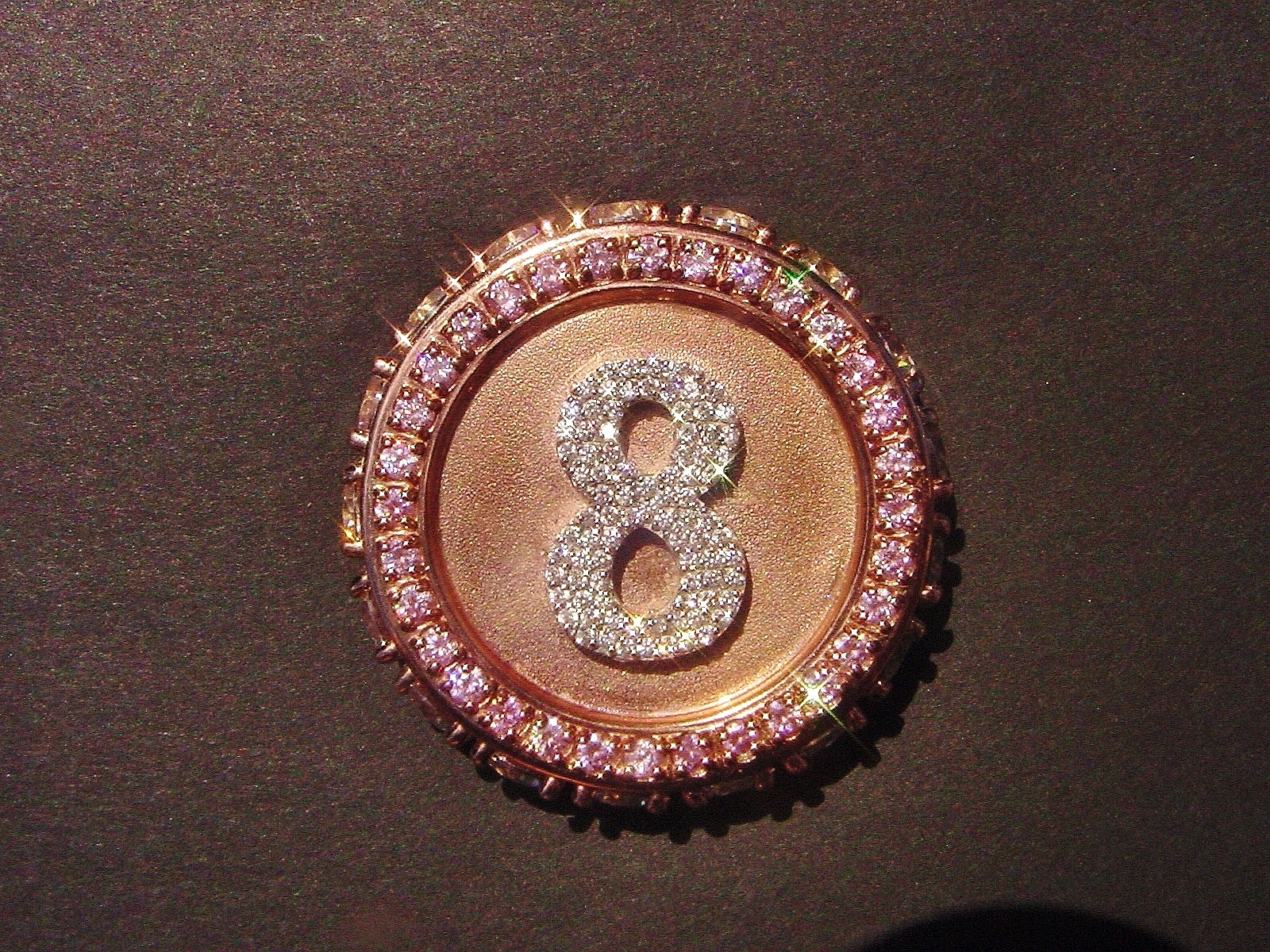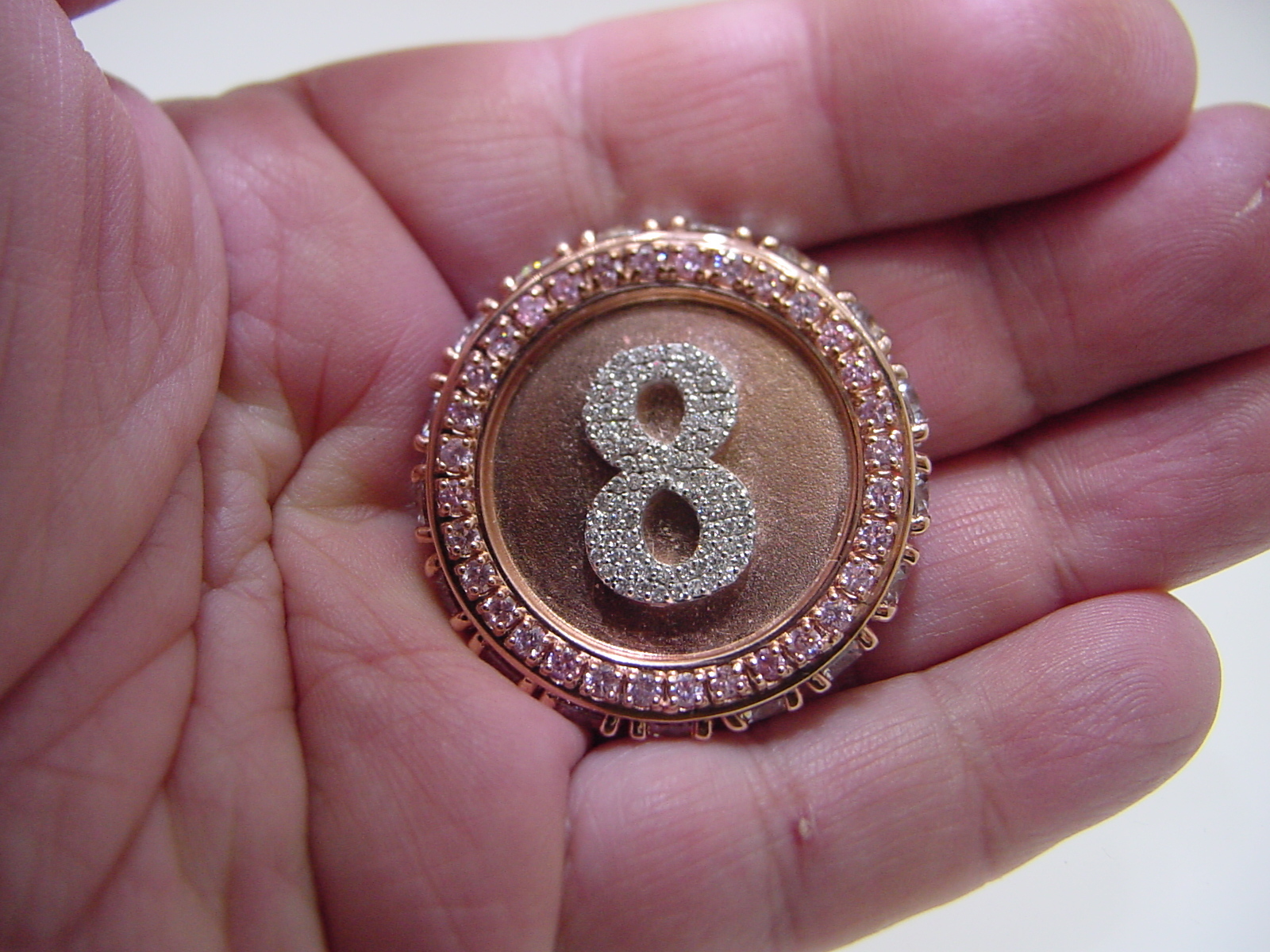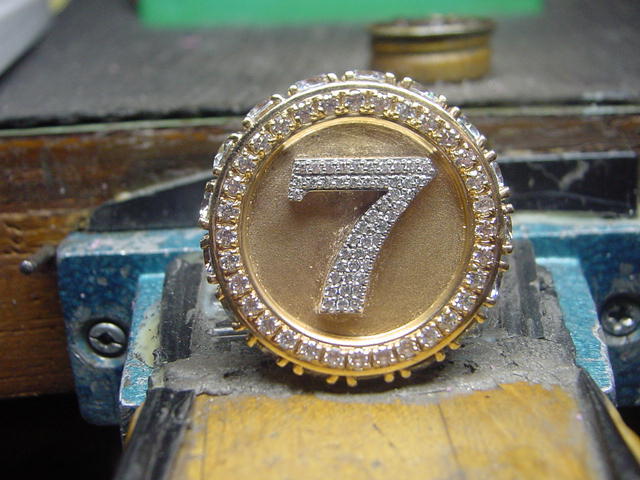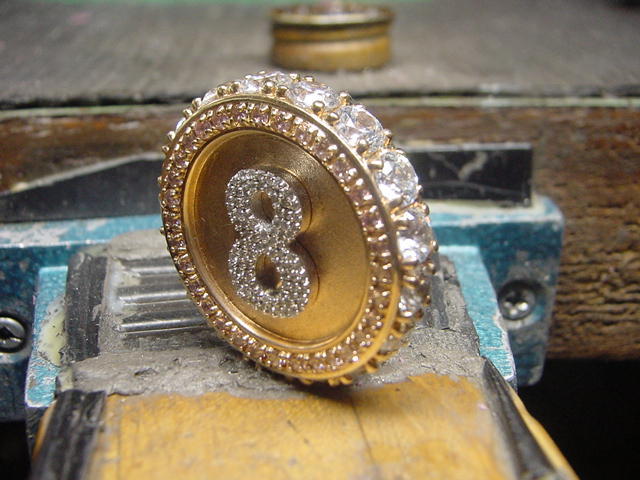 even in silver, agree?..Gerry!