During semi-random searching, I came across this picture of jewelry
made of what I'm guessing is some gold mesh tubes: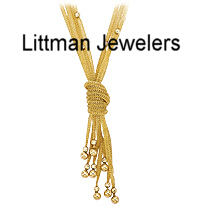 [ Source: http://store.littmanjewelers.com ]
Always looking for new things to knot, especially things that would
be suitable for jewelry, this stuff looks very very interesting.
Might anyone on the list be able to identify the material in question
from such a small picture? A general name or trade name would be
good. A source would be even better.

Thanks!
Carol Wang
http://www.daoofsilk.com
http://www.chineseknotting.org